During the preparations of the Gay Games, e-mail and internet were not yet commonplace. The communication was mainly on paper: there was a magazine in English called Friendship that participants could subscribe to and a magazine for volunteers called Inzet.
The editorial board consisted – how could it be otherwise – of volunteers. Coen Bosselaar, who took part in the New York Games as a volleyball player, asked team member Ronald Annaert to succeed him when he moved away. And so it came to pass that Ronald became editor-in-chief of Inzet.
In early 1997, the design changed. Colour was introduced and the format grew with each issue. 'This makes the increasing tension and effort visible', Ronald writes in the preface of the first yellow-purple coloured version.
Floppy disk
'As editors, we tried to shed light on all facets of the enormous organisation. This way I came into contact with all kinds of activities I did not know about. I had no idea what a skiff was.
'As a team we had a good vibe. We complemented each other so that the pieces became easy to read. Gradually, we became a well-oiled machine. Speaking of machine: we typed our stories on a PC, but they had to be put on a floppy disk and taken to the office for layout.'
Text continues below the image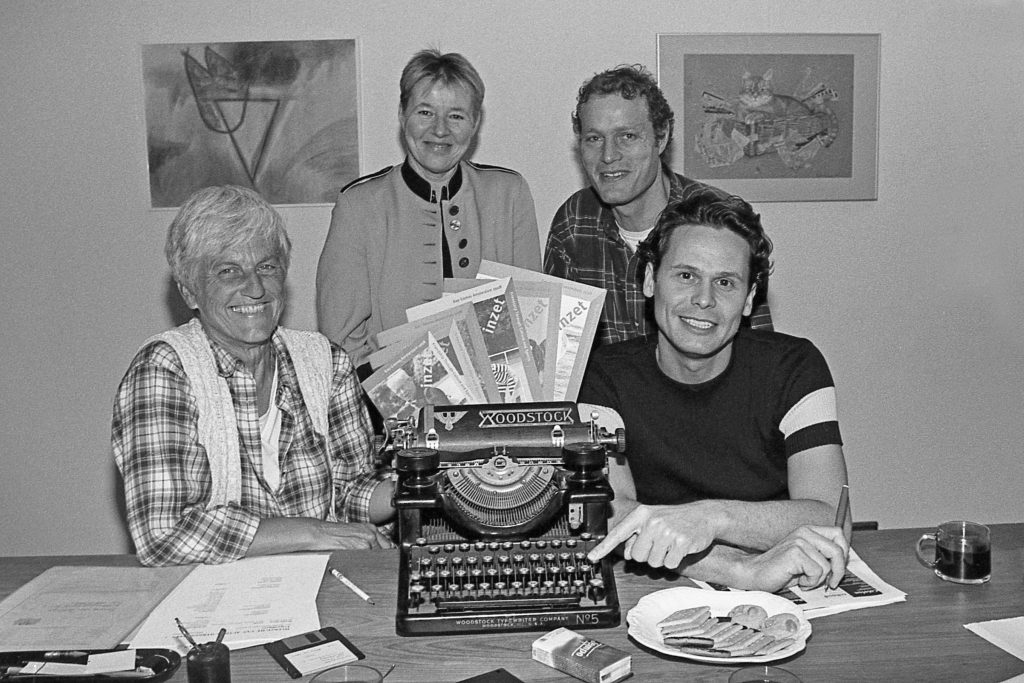 Crowdfunding campaign avant la lettre
'I am most proud of 'FRIENDS for Gay Games Amsterdam 1998' that we made as a thank-you present for all volunteers. The plan was to make a book with lots of pictures and some interviews, but then in August 1998 suddenly there was no money left.
'Nevertheless, together with Kees Ruyter, we persevered with the plans. Via a crowdfunding campaign avant la lettre, we collected enough money to cover the costs and also to pay for a festive presentation of the book. There I was, in January 1999, giving a speech in the COC Rozenstraat with a sign language interpreter next to me.
'We also all cycled through Amsterdam to distribute the book to those who were not present. It is still a beautiful book, which you enjoy leafing through. All the names of the volunteers who worked on the project are in it.'
Unconditional
'The Gay Games themselves were for me a week of fun, visibility and recognition. For a while, the city was ours, we were the norm. As far as I'm concerned, Amsterdam has written history.
'That respect, however, has now diminished considerably. You had hoped for an upward trend, or at the very least an atmosphere that stayed the same. But that has changed, unfortunately, and I feel that this has to do with the social media in which everyone can hurl their own truth into the world.
'I really like the text that one of the volunteers wrote about the city of Amsterdam: "'How you received us (…). It was unconditional and that makes you a world-class lady."'
Cover photo: Ronald Annaert with'Friends'
until 1 August 2023, exactly 25 years after the start of the Gay Games Amsterdam 1998