12 November 2022 – 12 February 2023

EXHIBITION
Retrospective exhibition Nicole Eisenman

More information
3-11 November 2023

EVENT
Gay Games 11 Hong Kong and Guadalajara

More information
21 January 2023

AWARD CEREMONY
Will the EuroGames volunteers win the Mayor Dales Prize?

More information
---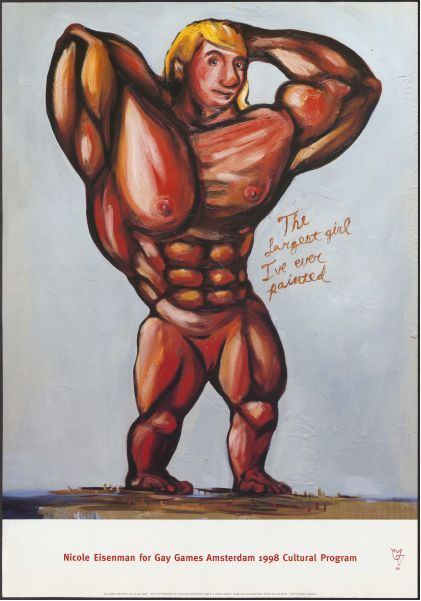 EXHIBITION
Retrospective exhibition Nicole Eisenman

12 November 2022 – 12 February 2023 | Kunstmuseum Den Haag
'One of today's greatest artists.' This is how Kunstmuseum Den Haag announces the retrospective of New York artist Nicole Eisenman (they/them).
Eisenman's multifaceted oeuvre built up over the past 30 years is considered internationally iconic for contemporary painting. In the coming winter months, more than 70 works of art will be shown in Kunstmuseum Den Haag
From the Corner of the Eye
Almost 25 years ago, Nicole was one of about fifteen young international artists who participated in the exhibition From the Corner of the Eye, organised by Stedelijk Museum Amsterdam as part of Gay Games Amsterdam 1998.
Text continues below the image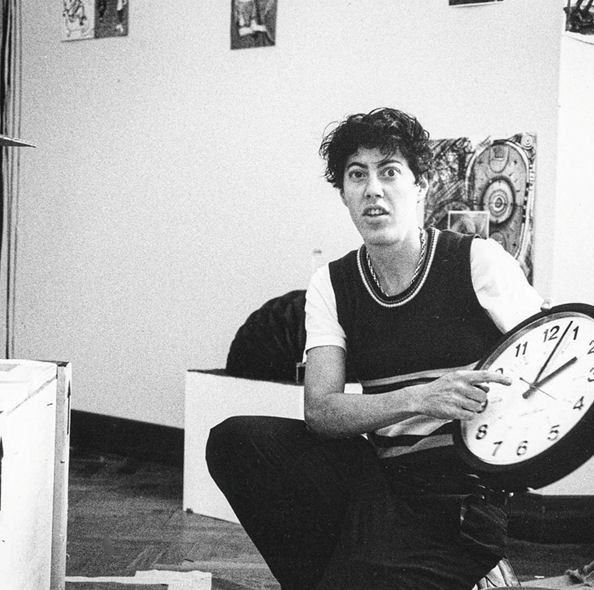 From the Gay Games exhibition guide at the time: 'Nicole Eisenman's drawings and installations are explicitly sharp and ironic, working exaggerated, pornographic cartoons into burlesque lesbian scenes, dreams and nightmares.' Eisenman also collaborated on the poster project of Gay Games' cultural programme, creating 'The largest girl I've ever painted'. So many former Gay Gamers have a real Eisenman in their homes!
How has Eisenman's career progressed since 1998?
In 2013, Nicole Eisenman received the Carnegie Prize, followed by the prestigious Mac Arthur Fellowship in 2015. Since 2018, Eisenman has been admitted into the American Academy of Arts and Letters.
Eisenman's work was featured at the 2019 Venice Biennale and The Whitney Biennale. Previous solo exhibitions have been at the Astrup Fearnley Museum of Modern Art, Oslo (2021), The Contemporary Austin (2020) and the Staatliche Kunsthalle Baden-Baden (2018).
And now, until 12 February 2023, Eisenman's work is on display again in the Netherlands, at Kunstmuseum Den Haag.
---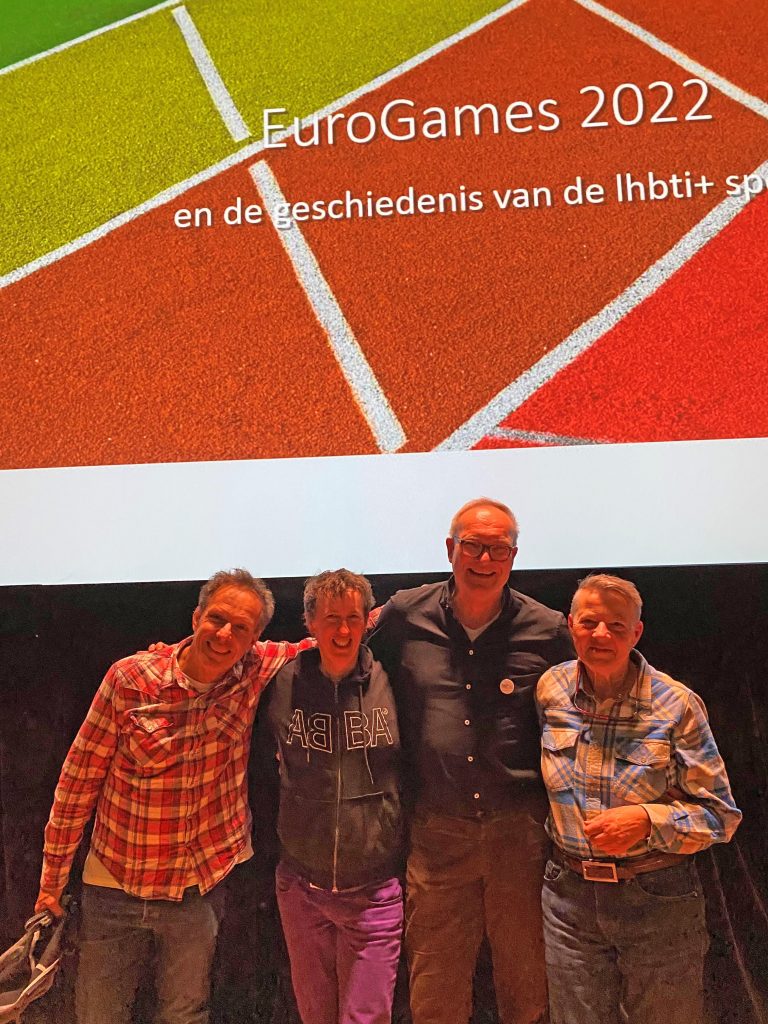 AWARD CEREMONY
Will the EuroGames volunteers win the Mayor Dales Prize?

21 January 2023 | City Hall Nijmegen
The Gay Games Amsterdam 1998-2023 initiative group has nominated the more than 500 volunteers of EuroGames Nijmegen 2022 for the Mayor Dales Prize. This prize is awarded annually in Nijmegen in January. The Dales Prize is intended for volunteers who have worked in one way or another to give shape to Article 1 of the Constitution: the principle of non-discrimination. Sometimes the prize is also awarded to organisations.
On Thursday evening 21 April 2022, we attended an evening about EuroGames Nijmegen with the Gay Games Amsterdam 1998-2023 Initiative Group at LUX Nijmegen. Paul van Yperen and Marian Bakker then gave a short presentation on the history of lhbti+ and sport with historical photos of the EuroGames and of the preparations for Gay Games Amsterdam 1998.
The presentation was very much appreciated and it was nice to share experiences with the organisers of the EuroGames. Next year, we would like to invite a group of EuroGamers to Amsterdam as well.
Gay Games meets EuroGames
Marc van den Broek (Cycling) and Emma van Zalinge (Tennis) participated in EuroGames Nijmegen this summer. Emma: 'I competed in Nijmegen in the women's doubles C and even came first with my doubles partner Marielle. It was a very fun and sociable tournament, excellently organised by André van Proosdij and his team.
'The weather was fantastic. And there were of course many Smashing Pinkers (Smashing Pinkers are often also former Gay Gamers….) and well-known participants of the Pentecost Tournament. Of the rest, I didn't see much. We briefly joined the dancing, always lovely to see, there is always such a special atmosphere, of supreme concentration, but also of exuberant merriment. Isabelle from the Gay Games office joined in!'
Mayor Dales Prize
The Mayor Dales Prize comes with a certificate and a sum of €500. Well-known winners of the prize include Saïda Aoulad Baktit and the Lesbian Archive. Do you know someone who could be eligible for this prize? Then send a motivation to info@cocregionijmegen.nl . More information can be found on the Dutch-language website of COC Region Nijmegen.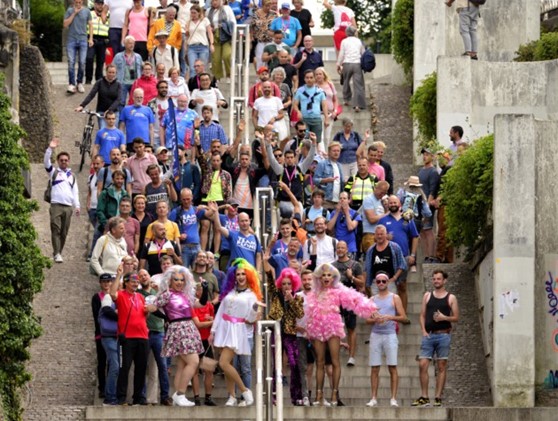 ---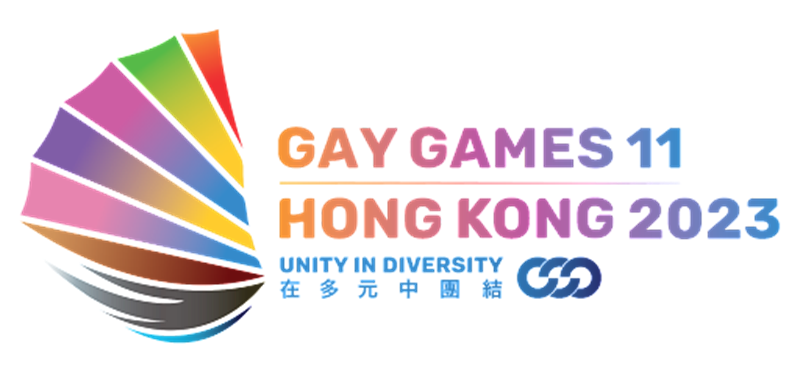 EVENT
Gay Games 11

3-11 November 2023 | Hong Kong and Guadalajara
Gay Games 11 Hong Kong 2023 (GGHK) announced on 8 October 2022 that international participants can immediately register online at GGHK2023.com to come to Hong Kong from 3-11 November 2023 and participate in this global extravaganza of sports, arts, culture, community and FUN!
Gay Games 11 is co-hosted with Guadalajara and will be held in both Asia and Latin America for the first time in its 40-year history.
Unity in Diversity
Under the theme of 'Unity In Diversity', the Games aim to promote unity and inclusion to help Hong Kong truly live up to its potential as a world-class city. Quarantine-free and visa-free entry for 170 countries reaffirmed as Hong Kong prepares to welcome 7000 athletes and artists, and 25,000 spectators in 2023.
'With the abolition of the quarantine entering Hong Kong, we are telling the world that Hong Kong is ready to rise to the challenge of hosting this international, multi-sport, arts & culture event', said Lisa Lam, co-chair of GGHK.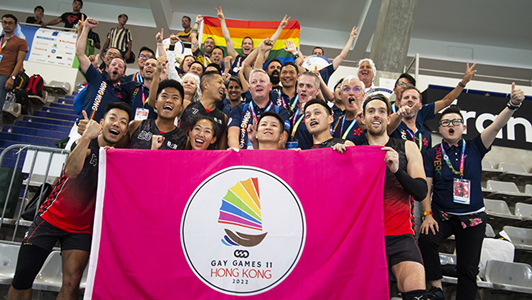 Programme
New sports added for Hong Kong feature Dodgeball, Trail Running, Dragonboat and the "mind sport" of Mahjong, in addition to Badminton, Field Hockey, Fencing, Football (Soccer), Marathon (half/full), Swimming, Road Races (5/10 km), Martial Arts, Rowing, Rugby Sevens, Sailing, Squash, Table Tennis, Tennis and Track & Field.
Aside from Sports, the Games will feature spectacular Opening & Closing Ceremonies, the Festival Village, daily arts & culture events, three nights of headlined gala concerts, LGBTQ+ themed art exhibitions, and a variety of events to celebrate the Gay Games' 40th anniversary.
Open to everyone 18 and older, the Games welcome everyone to participate regardless of ethnicity, religion, age, sexual orientation, gender identity, and athletic ability.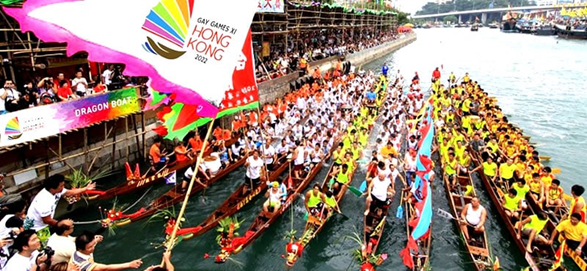 Registration for Hong Kong
Registration fee is HK$1500 (US$193) plus competition fees for specific sports. To ensure that this is truly the Games for All, GGHK is offering funding support including:
1000 fee waivers for young people below the age of 25, as well as migrant workers, domestic helpers and minorities, on a first-come-first-served basis funded by private donors.
From 8 October to 31 December, GGHK is offering an early bird discount that brings the registration fee down to HK$1050 (US$134 or 200EUR).
Gay Games 11 also in Guadalajara
Guadalajara in Mexico will co-host Gay Games XI in 2023. The first edition of the games taking place in Mexico and Latin America!
According to the Mexican website, Guadalajara is a city where traditions such as Tequila, Mariachi and Charrería, meet the modern Mexican culture. The adventure awaits you.
There will be 9 days of exciting and inspiring sporting and cultural events from 3-11 November 2023.
You can now register as a participant at the XI edition of the Gay Games 2023 Guadalajara.
until 1 August 2023, exactly 25 years after the start of the Gay Games Amsterdam 1998