---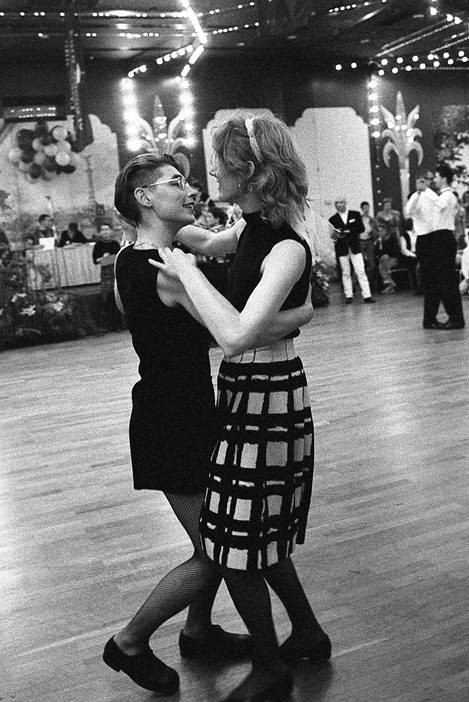 'LIVE' PODCAST
Presentation and potcast during 100 days to EuroGames
On Thursday 21 April 2022, the Initiative group Gay Games Amsterdam 1998-2023 was in LUX Nijmegen for an evening about EuroGames Nijmegen. Paul van Yperen and Marian Bakker gave a short presentation on the history of LGBTIQ+ and sports with historical pictures of the EuroGames and of the preparations for Gay Games Amsterdam 1998. The presentation was very much appreciated and it was nice to share experiences with the organisers of the EuroGames.
A podcast of the debate was made by the ladies Anja van Hout and Jolanda van Gool of the Brabant Potcast. In a nice open discussion, the importance of EuroGames was discussed. On the one hand, it means a nice being together, but on the other hand, it also means the freedom of sports, which is not so obvious everywhere.
Pro volleyball player Delano (Vocasa) talked about his coming out in the canteen and that in the end it was not that bad at all. In addition, Leon Pijls, who also organises the side programme cycling, shared his experiences in several Gay Games and EuroGames – why it felt so safe and led to the founding of a pink cycling group in Nijmegen
Marischka Bours, who (co-)organises Ballroom dancing in Nijmegen, just like she did in Amsterdam, spoke about the importance of dancing couples of equal gender and how many tournaments and the dance federation often do not cooperate. Alderman Grete Visser also shared how proud she was that this event will take place in 100 (now less) days in the oldest city in the Netherlands, with a young vibe.
Sign up now for EuroGames Nijmegen (27-30 July 2022).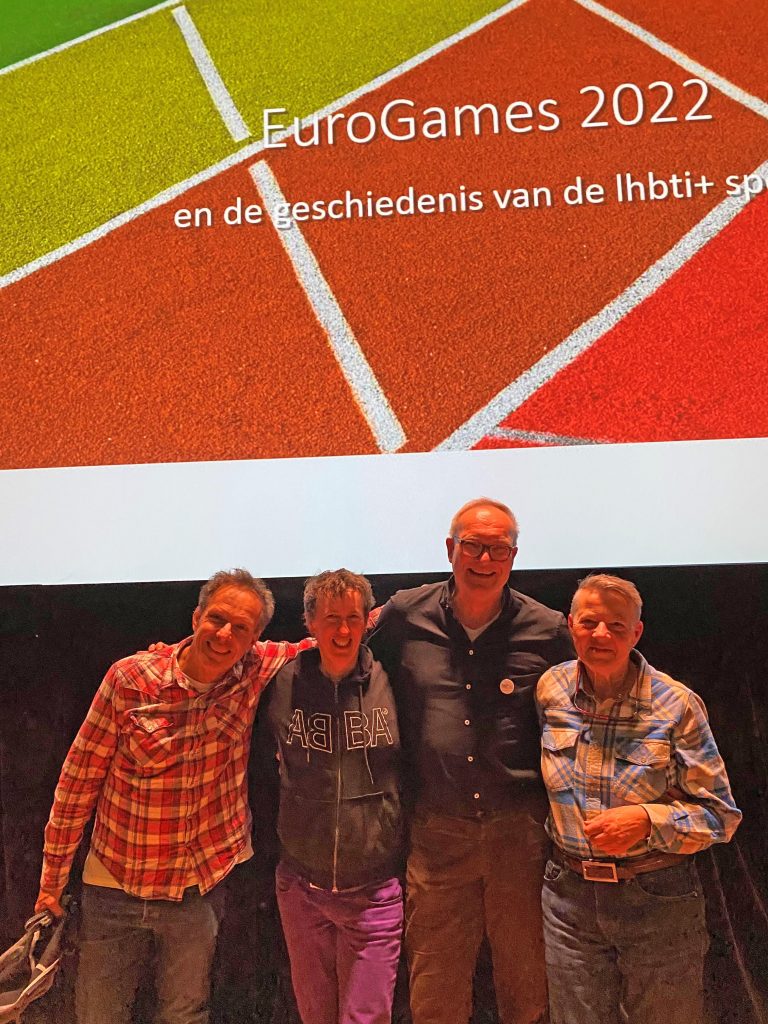 ---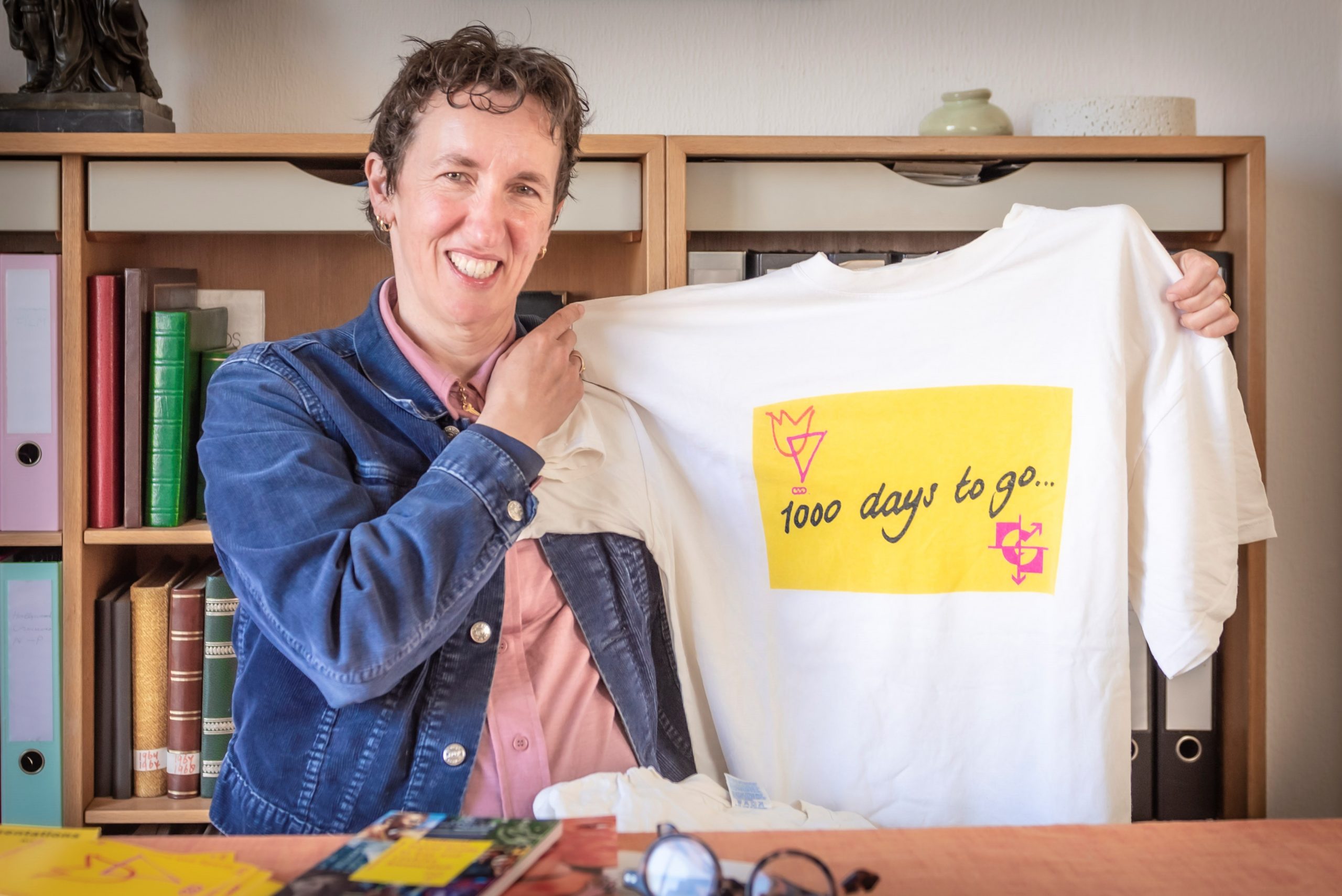 PRESENTATION
Presentation Gay Games at BUas

20 May 2022 | Breda University of applied sciences
Janine van Doorn of the Initiatiefgroep Gay Games Amsterdam 1998-2023, gives a presentation about the Gay Games on Friday May 20th at the (closed) Alumni Event of her old college, the Nationale Hogeschool voor Toerisme en Verkeer, now known as BUas (Breda University of Applied Sciences) in Breda.
---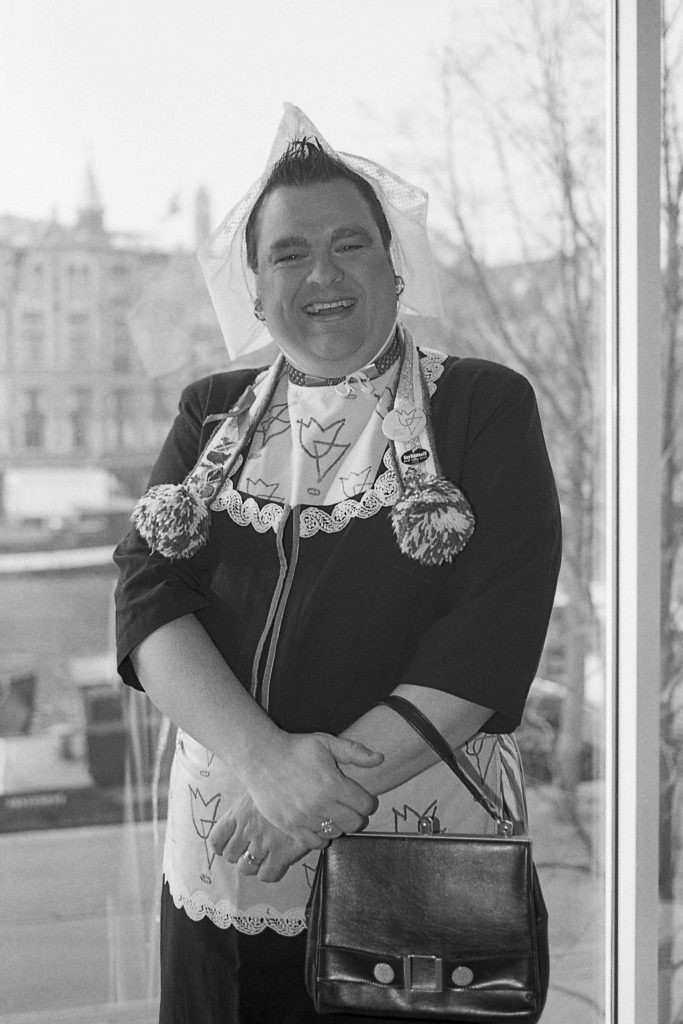 MINI EXHIBITION
Memories of Gay Games Amsterdam 1998 at IHLIA

29 July – 8 August 2022 | IHLIA plaza (3rd floor OBA Oosterdok)
Gay Games Amsterdam 1998 is regarded as one of the largest LGBTI+ events ever to have taken place in the Netherlands. The event was promoted worldwide by a special version of Frau Antje.
The man behind Frau Antje, Maxim Bezembinder, is donating the original costume to IHLIA as part of the upcoming Gay Games anniversary. In the Pride week of August 1-7, 2022 it can be seen at IHLIA in the OBA.
LGBTI+ icon
The Amsterdam edition in 1998 was one of the most successful Gay Games and had a record number of participants. The then mayor Patijn remembered it as the event in his city that moved him the most. Together with Maxim's Frau Antje, he was the international ambassador of the Games.
Frau Antje visited many cities abroad with a promo video in which Mayor Patijn invites gays and lesbians all over the world to come to Amsterdam – the Gay Way to Europe. Frau Antje became a popular icon within the international LGBTI+ community through countless postcards and posters.
The many thousands of participants who came to register in the Stopera were enthusiastically welcomed by a life-sized, cardboard version by Frau Antje. One could leave a short message in her handbag.
The event attracted just under 16,000 participants and a multitude of visitors to Amsterdam. It provided the city with approximately 125 million guilders in income and in the following years Amsterdam was regarded as one of the most popular tourist attractions for LGBT people.
Costume
The archive of Gay Games Amsterdam 1998 is managed by IHLIA LGBTI Heritage. One object that was missing was Frau Antje's costume.
What happened to this iconic costume after 1998?
While preparing the commemoration of the Gay Games in 2023, it suddenly popped up. It turned out to be hanging in a closet at Maxim Bezembinder's house and still in perfect condition.
Director Lonneke van den Hoonaard of IHLIA showed interest in including this symbol of the pink revolution in the collection. Maxim Bezembinder then donated it to IHLIA, together with a life-size portrait of Frau Antje.
Maxime XXL reaches IHLIA!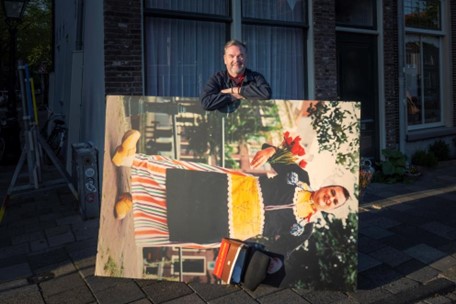 Life-size – 200 x 140 cm – is the photo of Maxime, the Frau Antje mascot of Gay Games Amsterdam 1998, who welcomed all participants on the steps of the Muziektheater 25 years ago.
In her handbag were notes on which you could ask questions. Marriage proposals she only considered from those who wanted to shower her with diamonds and jewels. Her pithy reactions appeared in the daily newspaper Friendship and are still hilarious 25 years later.
Patrick from Vancouver asks: You wear a wedding band. Are you already married?
Maxime: 'Honey, the wedding band has some costly diamonds. I'm with Marilyn. When you ditch the lover, hang on those stones'
Anonymous: XXO
Maxime: 'I know who you are! And the same to you, sweety!'
Steve: I think you are very beautiful! Please, come and see me in San Francisco. I promise to be a good a host as you are for us. Love, your new friend Steve.
Maxime: 'Thanks Steve, you're beautiful too. I hope.'
For 25 years, the queen-sized photograph stood in Leiden in the storeroom of Maxim Bezembinder. A first attempt to bring the photo to IHLIA failed because Frau Antje XXL did not fit in the car.
But after an appeal Lydia Zijdel drove her Fiat Ducato van to Leiden and Maxime got a place of honour in the IHLIA archive.
During the next Pride, from 1 to 7 August 2022, Frau Antje XXL will be on display in the OBA and you can once again put a note with a message in her bag. All the answers can be found later on this site.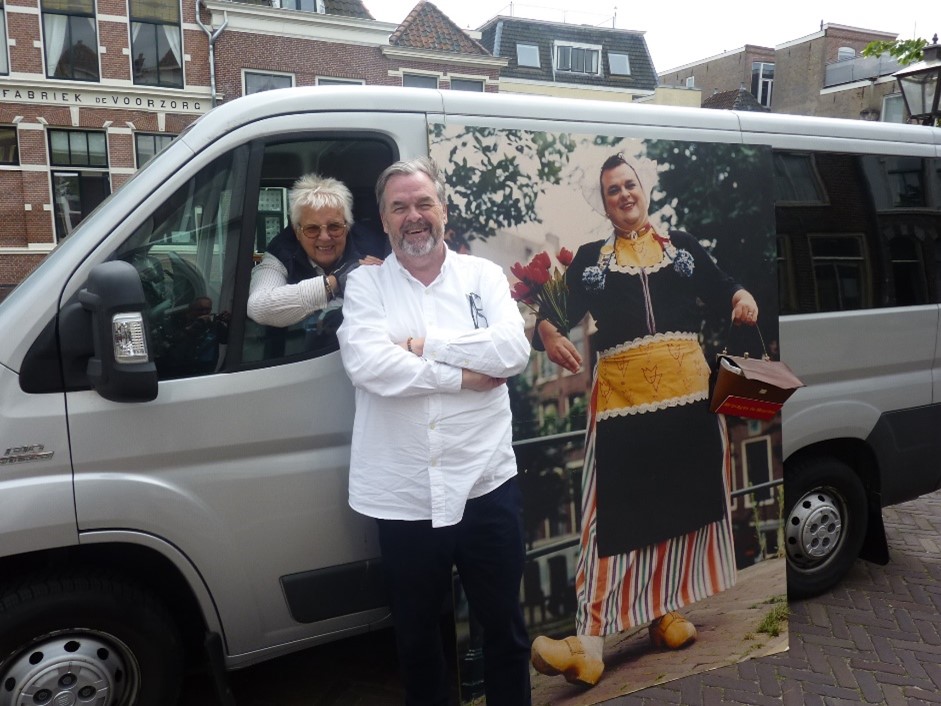 Presentation
On August 1, 2022, a small presentation will open at IHLIA with various Gay Games memorabilia from the IHLIA archive, such as the life-size – photo of Maxime.
Together with the Gay Games Amsterdam 1998-2023 initiative group, IHLIA has launched the website 'Memories of Gay Games Amsterdam 1998'. On it, the stories behind the collection are told based on memories and visual material.
Maxim Bezembinder will also share his memories of Frau Antje's international adventures.
---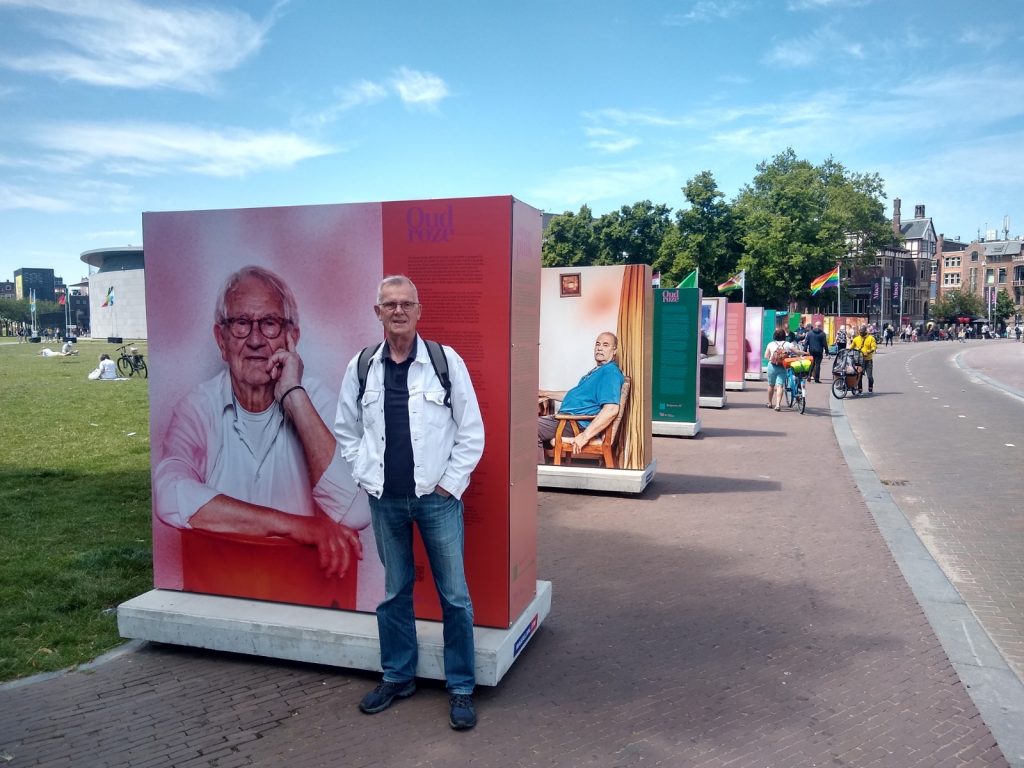 EXHIBITION
Marian Bakker on Museumplein

29 July – 21 August 2022 | Museumplein, Amsterdam
During Pride, the exhibition Oudroze (Old Pink) landed on the Museumplein. Oudroze is a travelling multimedia exhibition that honours the older generation of LGBT people.
Thanks to the emancipation struggle of the generations before us, lhbtqia+ persons in the Netherlands are -almost- equal to everyone else before the law. But this acquired freedom is vulnerable.
Marian tells about Gay Games Amsterdam 1998 and Lesbian ConneXions. But she is not the only Gay Games acquintance in the exhibition! The exhibition can be seen for a few weeks after the Pride
---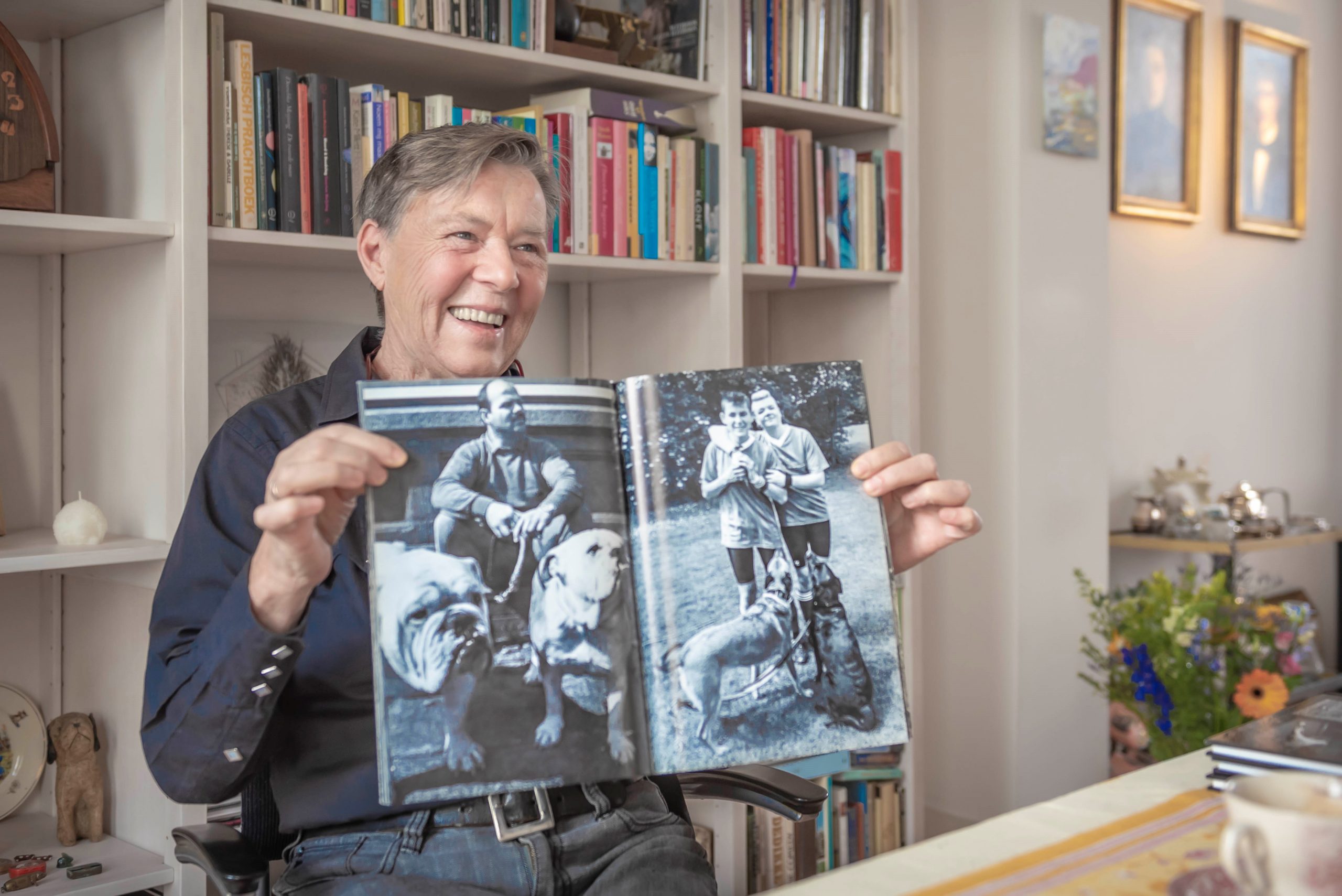 EXHIBITION
FemaleXPosition – Pride Hotel

30 July – 7 August 2022 | Student Hotel Amsterdam City, Wibautstraat 129, 1091 GL Amsterdam
During Pride Amsterdam 2022 (30 July – 7 August) the Student Hotel Amsterdam City is renamed Pride Hotel. The exhibition FemaleXPosition includes work of photographer Mariët Sieffers (MacSiers Imaging) including a selection of portraits she made for Movisie for the long-term storytelling project about Gay Games Amsterdam 1998 in the context of the celebration in 2023.
Via QR codes, visitors of Movisie.nl can read the stories of the six portrayed women.
Gay Games Amsterdam 1999-2023
Nearly 25 years ago, Gay Games Amsterdam 1998 was the largest lhbti+ event ever worldwide with over 3,000 volunteers, almost 16,000 participants and a total of about 275,000 visitors. Movisie recorded the experience stories of participants, visitors and organisers and asked younger LGBTQI+ people what we can learn from their experiences now. Mariët Sieffers (MacSiers Lightning) made a portrait of each interviewee for the series. In the FemaleXPosition exhibition, portraits and memories of six women who helped organise the Gay Games in Amsterdam at the time can be seen.
Their most beautiful memory
Marian Bakker, former photographer and IHLIA staff member:
'The atmosphere in the city was so special. The people of Amsterdam were all very nice, very happy. Then you finally felt what it's like to feel completely at home and to be able to walk around openly without the feeling that you're not actually allowed to be there. That was really great.'
Janine van Doorn, Mama Cash employee:
'On the day before the Opening Ceremony, I was walking back to the station and another lesbian walked up who already had her accreditation card hanging around her neck. We both had this look: This is going to be our week! The city is ours now for a while. We are in the majority. I will never forget that.'
Marjo Meijer, former doctor and co-initiator of Gay Games Amsterdam 1998:
'It has become a very big pink dream. I thought: 'Amsterdam can do this.' Well, ten times over and squared! Unbelievable, what an atmosphere, what a friendship, what a love expressed. The combination of sport and culture was perfect. It was a feast for the whole city.'
Riet Willems, funeral director:
'I am a sports person and it was just fantastic to experience the Gay Games for the first time. For me it was not a political event. I wanted to organise the football tournament in Amsterdam because it is my sport and my city. And it's just crazy!'
Joni Oyserman, sign language scholar:
'That there were so many international deaf people in the Special Needs team and to work with them. The whole warm feeling in the team. People working together to make it a success. We all rolled up our sleeves and, left or right, we got things done. That was a great experience. In fact, after the Gay Games I have never experienced that again.'
Lydia la Rivière-Zijdel, martial arts and resilience teacher:
'I immediately feel the emotion of when I drove into the ArenA. That was a victory of so many things at once. As far as I'm concerned, that we were in the lead with so many disabled people. That we had made it despite all the shit that went on in the last week. That we were the first Gay Games with so many openly disabled people, deaf people, people with HIV/AIDS etc. and that we felt part of the gay movement!'
---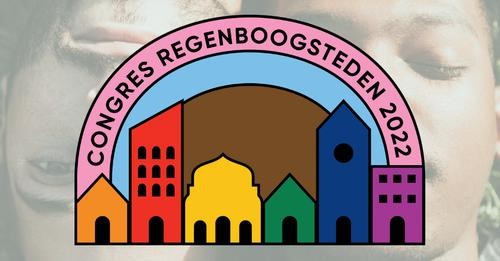 CONGRESS
Rainbow Cities 2022

14 October | Jaarbeurs Utrecht
Movisie organises the Congress Regenboogsteden 2022 (Rainbow Cities 2022) on the 14th of October. On this day representatives of all municipalities, local (LGBTI+) organisations, social professionals and other interested parties will meet in the Jaarbeurs in Utrecht.
Together we will discuss rainbow policy in the form of interesting workshops and sessions, an attractive plenary programme and various networking opportunities.
Paul van Yperen participates on behalf of the Initiative group Gay Games Amsterdam 1998-2023 in the live talk show Rainbow City Talks: Let's Talk about Sport. How do we ensure a safe LGBTI+ sport climate? What do LGBTI+ visibility, acceptance and safety mean? And more importantly: how is it experienced?
Journalist and TV presenter Barbara Barend is the host of the Congress Rainbow Cities 2022.
Rainbow cities
Rainbow cities are municipalities actively working for emancipation, safety and social acceptance of lesbian, gay, bi+, transgender and intersex people.
Movisie has been implementing the Rainbow Cities programme for years, commissioned by the Ministry of Education, Culture and Science.
Movisie advises and supports municipalities in rainbow policy, develops knowledge products and publications and organises knowledge exchange. We do this in close cooperation with local (LGBTI+) organisations, social professionals and many others.
---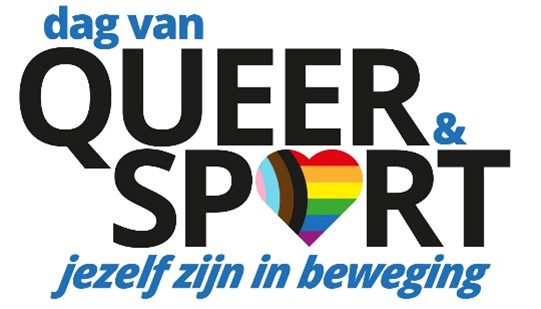 CONGRESS
Day of Queer & Sports

18 November | Pakhuis de Zwijger, Amsterdam
Being yourself on the move
With this slogan, a number of clubs and organizations involved in queer sports organize the Queer & Sport day in Pakhuis de Zwijger. The Gay Games 2023 initiative group, which is preparing the 25th anniversary of Gay Games Amsterdam, is also involved.
What is it about
The conference focuses on safe sports for everyone. Everywhere, on the fields, in sports halls, along swimming pools or anywhere else, inclusion should be the starting point. Interesting speakers will discuss the past and the development of queer sports clubs in the Netherlands, which emerged at a time when inclusion was not yet self-evident.
The logical next question is what the current state of queer sports is. Despite many good intentions and thick policy notes, many LGBTQI athletes still do not always feel comfortable with a non-queer sports club. How is that possible? The question is also why there are still queer clubs at all. And are the Gay Games still necessary?
There is also a look to the future: working groups formulate wishes for a future where sport is truly inclusive for the entire LGBTQ family. Afterwards there is plenty of room for debate and networking.
Organizers
The organization is in the hands of Sportclub Tijgertje, which has existed for forty years, Gay Swim Amsterdam, which has existed for 25 years, and the Pride and Sports platform. NOC*NSF, Alliantie Draw and the John Blankenstein Foundation, Gay Games 1998, the Koninklijke Nederlandse Zwembond KNZB and the Trut Fund support this important initiative.
For whom
The day of Queer & Sports is intended for queer athletes, policy makers, coaches, sports boards, government, researchers, education and of course everyone involved in making sport inclusive for all.
Time, place and costs
The day is on Friday 18 November from 09.30 to 16.30 in Pakhuis de Zwijger in Amsterdam. The entrance is 25 euros for non-profit organizations and volunteers. Professional and commercial parties pay 50 euros per person.
(Attention! The language will be Dutch)
until 1 August 2023, exactly 25 years after the start of the Gay Games Amsterdam 1998