A delegation of twelve people managed to bring the Gay Games to the Netherlands in 1993. In Washington, Amsterdam beat the favourite candidate cities Sydney and Atlanta. Marjo Meijer was the first chairwoman of the board of Gay Games Amsterdam 1998 and was a member of the delegation. Crucial was the Bidbook, containing the plans for Gay Games Amsterdam 1998.
Marjo: 'Our initiative group consisted of fifteen to twenty volunteers. We had to write a Bid and then asked a number of people to write a specific part.
'The board coordinated this. For example, we asked Jip van Leeuwen to prepare the sports section. Then we discussed the concept, gave our feedback and then a final version came out. That's how it went with all sections.
'We had already devised the Housing project, in which Amsterdam residents provide housing to participants. We also had a boat parade of medalists and musicians recorded in the Bid, prior to the Closing Ceremony.'
They didn't care about culture
'The Federation of Gay Games was very impressed with the sports facilities. She didn't give a damn about that cultural festival, but the Bid already included the Storytelling Festival, which focuses on aids and spiritual ceremonies. We thought at the time that 900 volunteers would be enough, but that turned out to be a bit more… 3000!
'We had a large Committee of Recommendation and an international network to support us. What touched me most were the statements of support from gay-lesbian organizations from Eastern Europe – the wall had fallen not so long ago.
'We have also worked well with the EGLSF, the European Gay and Lesbian Sports Federation. The Federation was also very impressed by how powerfully our Bid was integrated into Amsterdam society.'
One clear winner
'In Washington, everyone had an hour to present. Atlanta started. They came up with a presentation that was so long-winded that federation people ran away for coffee. That gave some of us the opportunity to go after them to have a chat.
'And then we came.
'I presented the bid and Joseph Los, the treasurer, explained the financial planning. The twelve of us concluded with the yell: "We're committed, we're organised, we're ready!" That was really what we felt.
'We received thunderous applause. At exactly 11 o'clock a vote was taken by ballot and at 10 past 11 it was announced that there was one clear winner, that's all. Earlier it was decided that the results would be announced in the afternoon.'
I was lifted into the air
'After seven nerve-racking quarters of an hour, the hour arrived. The Amsterdam team stood together as one block. Atlanta: 2 votes. Sydney: 14 votes… We stood in the back of that conference room behind the Federation members.
'I happened to be standing in front of Jip van Leeuwen and I felt myself being lifted into the air. My glasses broke. It was so crazy.
'A camera crew from Washington had filmed our presentation and half an hour after we won the Bid it was on the news in the Netherlands. At the same time you saw Bob van Schijndel and a group of volunteers who followed the results over the phone in Amsterdam. It was great.'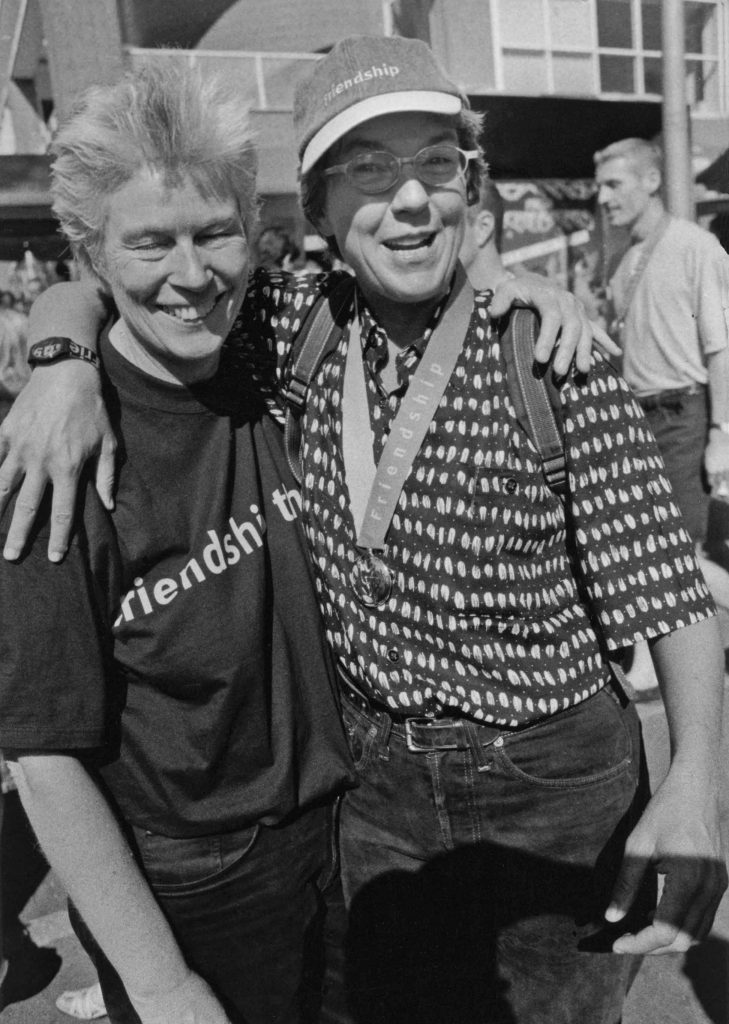 until 1 August 2023, exactly 25 years after the start of the Gay Games Amsterdam 1998