The photos hang framed on the wall of singer Wilma Bakker at home. In the summer of 1998 she performed as Betty in the show 'Bob and Betty' during the Gay Games boat tours of Holland International. The photos show that several celebrities were there, including Harvey Fierstein.
Holland International was of course interested in doing something with the Gay Games because it was revenue for them. And we as actors thought it would be fun to make a performance out of it.
'We agreed with Holland International that the tour would go to places where there was something to tell about the history of gays and lesbians. Bob was played by an actor in drag, Armand Pol. But there was so much interest that another Bob and Betty were added.*
'We had these tours all day long! At one point we were even recognised in town: "Hey, Bob and Betty!" The hilarity around Bob and Betty was increasing. But if you ask me what I said and sang then, I'll have to look it up.'
Text continues below the images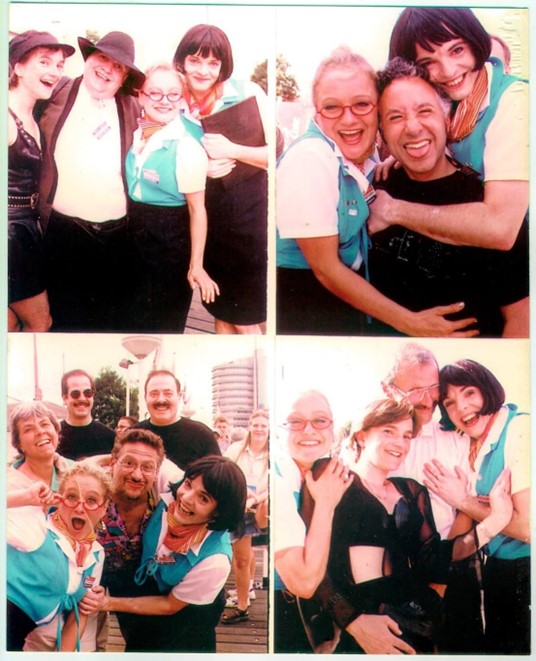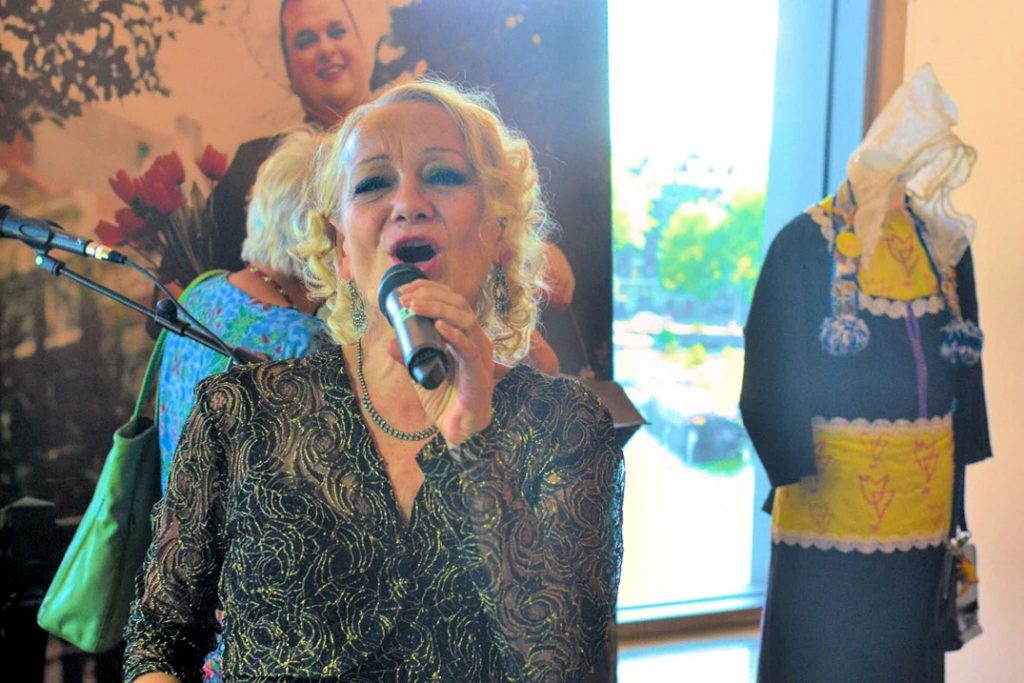 'We had a Polaroid camera that you could use to capture everyone and then we could take the picture right away. I made a compilation of those photos and it hangs in my house. Those are the only photos I still have. The rest I gave away. That whole week was one big bubble.'
*Bob & Betty Canal experience cruise 'Gay history of Amsterdam', Forbidden Water production by composer and producer Alan Belk (who also co-created the Gay Games anthem Rhythm of the Rainbow with Daniel Cohen) & co-producer Lasca Ten Kate of Vocal Delivery.
Bob was played by actors John van Eerd and Armand Pol, Betty by actresses Lieke Defize, Lasca Ten Kate and Wilma Bakker. Directed and written by Daniel Cohen.
Wilma Bakker makes under the name Blond and Blue Theatre several performances. She was special guest on August 1, 2022 at the opening of the mini exhibition 'Memories of Gay Games Amsterdam 1998′ at IHLIA. Her portrait, made by MacSiers Imaging, can be seen during Pride in an exhibition of MacSiers' work in the office of Thuys Makelaardij, JM Kemperstraat 70 A, Amsterdam.
until 1 August 2023, exactly 25 years after the start of the Gay Games Amsterdam 1998