While on sick leave due to knee problems, Lucie Gunsing volunteered for the Gay Games in the registration department
At the same time, she was trying to get pregnant through an insemination process. After a year, she had to find replacement work because of the Poortwachter Act (Gatekeeper Act). Fortunately, she was able to turn her volunteer job into paid work, but to do so she had to apply for a job with Gay Games director Marc Janssens.
Nobody knew about it
Lucie: 'The day before the interview, I turned out to be pregnant. Well, you don't have to say that at a job interview, but I wanted to tell anyway because I felt I posed a financial risk to the organisation.
'At night, I dreamt that I had a child during the Games and that I received a gold medal at the Closing Ceremony because I was the first employee to give birth to a child during the Gay Games.
'The next day, I told that dream to Marc, although I did not yet know when I was due. 'Congratulations,' Marc said, 'on your job and also on your pregnancy, I am confident.'
'The due date was initially 26 August, so I assumed that dream would not come true. Apart from my friend Wilma (and Marc), no one knew about it.'
Text continues below the images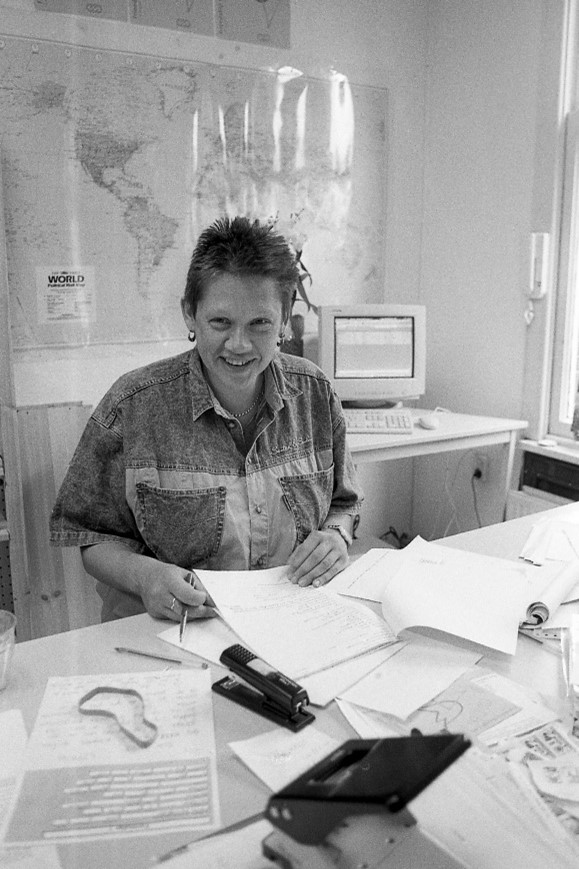 'My workplace was on Rozenstraat, four floors up. As a pregnant person, you are not very happy then, but until the end – I had gained 30 kilos by now – I climbed up.
'All registrations of participants passed through my hands. I knew by heart the entries with something wrong, I solved the problems as well as I could. I sat on the phone all day with my legs up.
'By the way, there was another pregnant person at the Games and we were pictured together: "'Who has the fattest belly…".'
Not a wink
'I come from the volleyball world and there, at tournaments, it is customary to provide participants with accommodation. So again, a team asked if they could stay at my place. I emptied my bedroom and put up my own bed in the room – after all, that's where I was due to give birth later.
'The Gay Games started, I attended the Opening and performed three outdoor concerts with my choir Dissonant. I was totally stress-free. On the Thursday of that week, contractions started after midnight and in no time my daughter was there.
'The whole volleyball team did not sleep a wink. Unfortunately, I could not attend the performance of my choir at the Concertgebouw on Friday and the Closing Ceremony on Saturday.'
My child is straight
'But I was soon back on my feet and so a few days later I arrived at the office with my baby. Jip van Leeuwen congratulated me and I told him my dream. Then he gave me a gold medal (left over from the figure skating tournament that was forbidden to continue)!
'I still have it, it is for my daughter. The baby went from hand to hand. At one point she was in Paul van Yperen's arms and then she surrendered completely, she totally relaxed. I said, "My child is straight", because she reacted like that to a man.
'At 12, she had her coming out. She said, "'Mum I have to tell you something, I'm straight." I'm so proud that she did it like that.'
until 1 August 2023, exactly 25 years after the start of the Gay Games Amsterdam 1998