Niek van der Spek, Director of Operations at the time, had the task of making sure that Gay Games Amsterdam would also show its 'female face':
'The word gay was and is quickly associated with gay men and in Amsterdam we wanted the Gay Games to be a mixed (m/f) event with many lesbians participating as well. This had not been explicitly addressed in previous editions. Initially, we were even called the Stichting Gay & Lesbian Games Amsterdam 1998 (Foundation Gay & Lesbian Games Amsterdam 1998), but later the Federation of Gay Games (FGG) prohibited this.'
'Dental Dam's'
'We created De Adviesgroep Vrouwen (The Advisory Group Women – DAV) to help us, as an organisation, to achieve at least 40% female participants. We made sure that women were visible in all our communications. On images, in the language (m/f), but also in the programming.
'And thus also in the range of parties on offer. There was something for everyone, like a women's sm-fest. We even went so far as to seriously consider whether – if we were handing out condoms as part of the 'safe sex campaign' – we shouldn't also provide 'dental dams' for women…'
Text continues below the image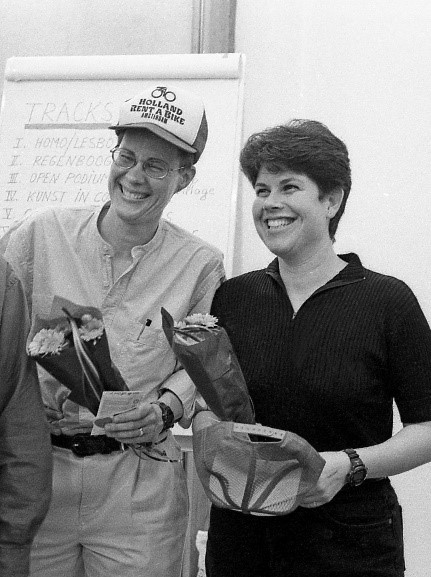 Surely that was not possible
'I can still clearly remember the moment when we finished the booklet with the sports, cultural and party programme. We had worked hard on it. It had to be absolutely right, because it was printed – digital communication was still rare – and it had to be ready before Roz Quarto and Susan Kennedy (officials of the FGG) came on a working visit.
'I had an appointment with Roz and was very proud of the diverse programme. The first page she turned was the one about the parties. Well, that couldn't be, Gay Games shouldn't be associated with sex, people shouldn't think that that's all that gay and lesbian parties were about.
'We had a lively discussion about it that Monday morning. I argued that it is part of the culture of our community, also for women, and that it therefore deserved a place in this first European edition of the Gay Games. Afterwards, she was able to laugh about it.'
Text continues below the image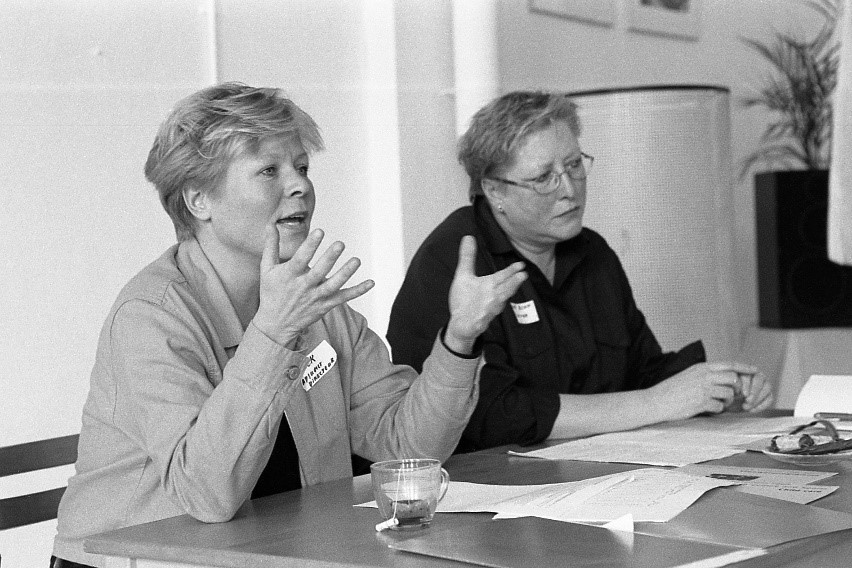 Unforgettable
'My biggest goose-bump moment was when we stood there in the ArenA at the opening. I had not been to any previous Gay Games. So you are thinking up and organising something without any idea of what it will be like. And then the time comes.
'We stand there and all 15,000 participants enter that fully packed stadium. An unforgettable moment, it gives me goose bumps all over again. It was one of the most impressive moments of my working life.'
Stronger together
'We have been able to create a flourishing lhbti+ sports movement, at least in Amsterdam. It has made sport more inclusive, but there is still work to be done.
'That is why it is good that an association like Smashing Pink, of which I am a member, exists. Together you are stronger.'
until 1 August 2023, exactly 25 years after the start of the Gay Games Amsterdam 1998