In November 2023, Hong Kong will host Gay Games 11. A Dutchman who has been living and working in Hong Kong for 12 years, Dennis Philipse, ensured that the global lgbti+ event will be organised in Asia for the first time. Why did he take this initiative?
Everyone is equal in sport
'In 1998, I had just moved to Amsterdam. I was 25, had got a job at Boomerang Freecards and lived above the office on Keizergracht. I worked very hard, about sixty hours a week, and had not heard the announcement of the Gay Games.
'Friends took me to the opening, but I had no idea where I was going. All over the city the yellow Gay Games flags were flying and there were activities.
'I thought the Opening Ceremony was fantastic: not aimed at the spectators but at the participants. In sport, everyone is equal, no matter where you come from, what religion you have or what your sexual orientation is – everyone is equal.'
Applause from thousands
'In the eight years I have been involved with the Hong Kong event, I dream about the Gay Games day and night. Sometimes I am a bit ashamed of it, but people see me as Mr Gay Games.
'I read a lot by and about Tom Waddell – the founding father of the Gay Games – to understand what his vision was. Waddell was openly gay as a participant in the 1968 Olympics in Mexico. At the opening ceremony, he walked through the stadium and received applause from thousands of people. He wanted to give that feeling to every LGBTI+ person. Everyone should be able to feel like an olympian.'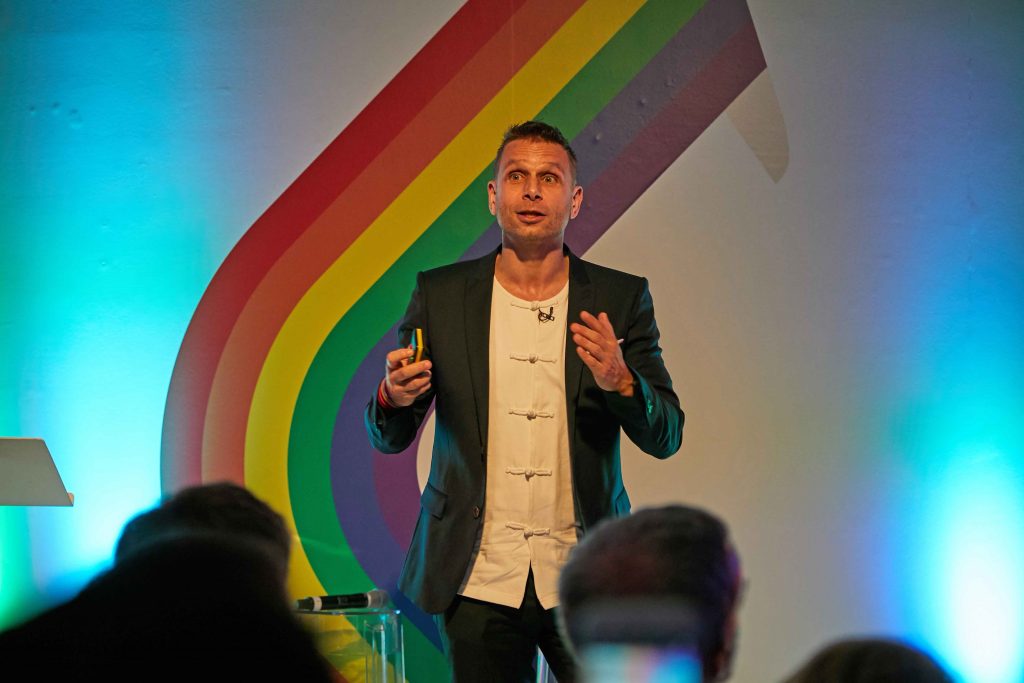 An amazing job!
'Gay Games Amsterdam 1998 was overwhelming, very big, something I have never experienced before in my life. So much happened and especially that image, when I opened my door, saw all those flags and thought wow!
'The Gay Games in Amsterdam were the first outside America. Since then, more have taken place in Europe – in Cologne in 2010 and in Paris in 2018, but the one in Amsterdam was the biggest.
'They did a great job, because at that time there was no internet, no Facebook and Twitter, and still they recruited all those participants. An amazing job!
'What was also special, and which no other city copied, is that about half of the participants were women.
'Amsterdam has done something very special with this. It was a crazy event, really fantastic, and it had a very positive influence on Amsterdam.'
Cover photo: poster for the opening/closing in the Arena
until 1 August 2023, exactly 25 years after the start of the Gay Games Amsterdam 1998