From the beginning, Tom Bijlmer was involved in the initiative group of the Gay Games and later he was in the sports group. Together with Hein Jan Lapidaire and Ellen Soeters, he organised the 1998 Gay Games Amsterdam tennis tournament.
Gap between lesbian women and gay men
Tom: 'For the 1994 Gay Games in New York, I tried to get and keep together as many Dutch participants as possible. That was later the basis for the group of volunteers that helped set up the Gay Games in Amsterdam.
'In the 1970s and 1980s, there was quite a gap between lesbian women and gay men. Only in the run-up to Gay Games did those two groups come together. That is very special.
'We started with tennis and we were lucky – we still are – to have an equal number of men and women in our first tennis tournament. In 1993, we started the Pink Tennis Club, which later became Smashing Pink. The club still exists.'
On my bike all the time
'We had divided the tasks. Hein Jan did the tournament desk, Ellen the volunteers and I the external contacts.
'The tournament was held on the tennis courts of Gold Star, Nieuw Tenniscentrum and Dicky Squash. Three adjacent parks. After the Gay Games, Gold Star asked if we wanted to come and play on their park. The owner said: "I have never seen tennis players and guests waiting their turn so politely during tournaments."
Text continues below the images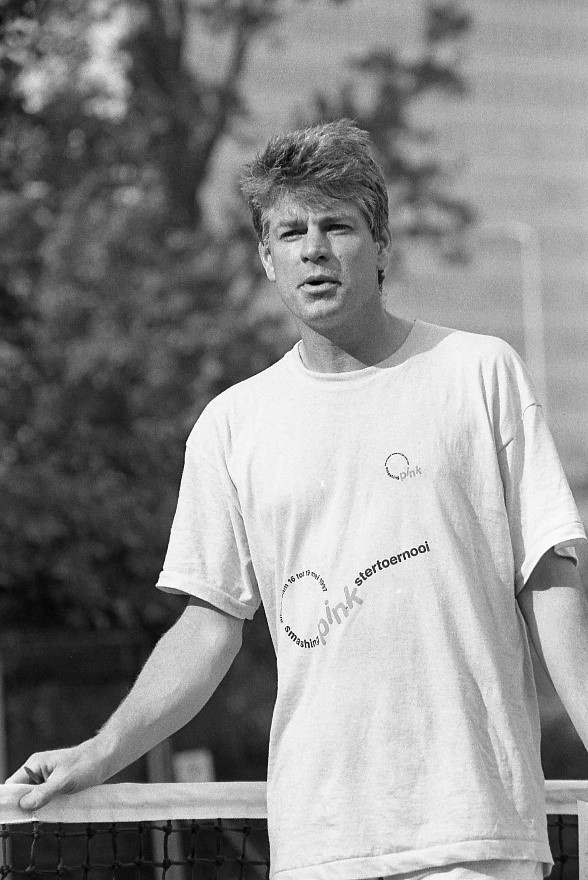 'During that week, I was totally focused on the tennis tournament. I was on my bike all the time to bring the results to the town hall, because we no longer had a fax machine – the fax machines at the sports venues had to go due to budget cuts.
'I saw that there was a wonderful atmosphere in the city, but I didn't see much else. Only later did I see on video all those people from other countries talking. I thought: Yes, this is what Gay Games is all about. It is not only about sports.'
For me the city itself was a highlight
'My best memory of the Gay Games was the performance by the New York City Gay Man Chorus in the Stock Exchange. That was one of the few things I saw at all. I was at the end of my rope by then.
'Besides that, Het Mandje – the bar of Bet van Beeren that reopened one time during Gay Games – was on my list. I really had to go there. The city itself was a highlight.'
Cover photo: Table with prizes Smashing Pink tournament
until 1 August 2023, exactly 25 years after the start of the Gay Games Amsterdam 1998