Among the highlights of the Opening and Closing Ceremony of Gay Games Amsterdam 1998 were the performances by The Weather Girls. They sang their classic It's Raining Men accompanied by a group of dancing and stripping sailors. Coen Mobach was one of them and shares his memory
A hot mating dance
'As someone who had no experience, it was a challenge to sign up for the dance act. While dancing in my sailor outfit, I was mainly busy following the instructions I had rehearsed with a hundred other men.
'Meanwhile I heard the music and felt the energy of the frenzied crowd in the packed stadium. In particular, It's Raining Men by the Weather Girls whipped up our act into a hot mating dance on the ArenA catwalk.'
Down to the blue swimming trunks
'As groups of sailors, we had to form the letters H E L L O to rhythmic Club House music and move at the same time with two coloured flags in our hands. I had yellow flags. The word HELLO had to be readable from both sides of the catwalk, so after a few bars, some of the men had to move to turn the letters around.
'At the Closing Ceremony, we formed the word B Y E. There were much less dancers then, so a longer word was not feasible.
'To the song It's Raining Men, we had to stand and strip along the edges of the catwalk. Piece by piece, all the clothes came off according to a fixed choreography, down to the blue swimming trunks. The trunks had to stay on because Wim Kok, our prime minister, was in the VIP lounge and rumour had it that the crown prince also was present.
'During the strip act we threw all the other pieces of clothing from the catwalk to the side in a sexy way. Afterwards, we all jumped off the catwalk, gathered our garments and grouped in the corners of the field.'
We are EXTRA-ordinary
'There we heard speeches from the mayor of Amsterdam, but also from Harvey Fierstein, of The Torch Song Trilogy. I remember him saying in his characteristic voice: 'We are not ordinary, we are EXTRA-ordinary!'
'At the Closing Ceremony, it buzzed through our group: we're going all the way! So, the blue swimming trunks went down, but immediately back up again, because to run through the Arena cock-naked was going a bit too far.
Text continues below the image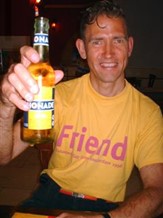 'I can still feel the ecstatic dance jitters and memories coming back, just hearing the first sounds of It's Raining Men.'
until 1 August 2023, exactly 25 years after the start of the Gay Games Amsterdam 1998