Andriy Maymulakhin is founder and coordinator of Nash Mir (Our World), an important lgbti+ organisation in Kiev, and he was one of the two participants from Ukraine in Gay Games Amsterdam 1998.
It was still almost impossible for them, citizens of the former Soviet Union, to go to such celebrations. But Gay Games Amsterdam had set up a special fund to finance the participation of gay activists from such countries. Therefore, these two persons from Lugansk could officially represent Ukraine at the Fifth Gay Games.
A bit sad
Together they walked into the ArenA during the Opening Ceremony: 'We felt a bit sad – one of the biggest European countries with 50 million inhabitants was represented by only two people. But members of other teams came up to us to greet and encourage us, just to say a few words – and it was great!' says Andriy.
They took part in the international Story Telling Festival with the theme human rights of queer people in Africa, Asia/Eastern Europe and Latin America. Lutz van Dijk was the organiser. This inspiring festival consisted of three evening programmes with storytellers and entertainment. It brought together LGBTIi+ individuals from all over the world to share their own personal coming out stories in the Rode Hoed.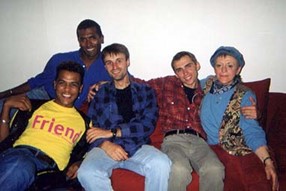 Recognition
Nash Mir has had to overcome many obstacles in its twenty years of existence.
'In 1991, Ukraine was the first country of the former Soviet Union to legalise homosexuality. It was a legal measure, mainly to facilitate rapprochement with Europe. It was not preceded by any public discussion. In practice, therefore, there is not much to see of it', says Andriy in an article in Trouw in 2006.
'The first battle was over the recognition of Nash Mir as a public organisation. The terms 'gay' and 'lesbian' were not allowed to appear in the name. Legal officials even sought advice from doctors to bolster their arguments. But we got help from Amnesty International. In the end, the government had no grounds to ban our full name.'
Text continues below image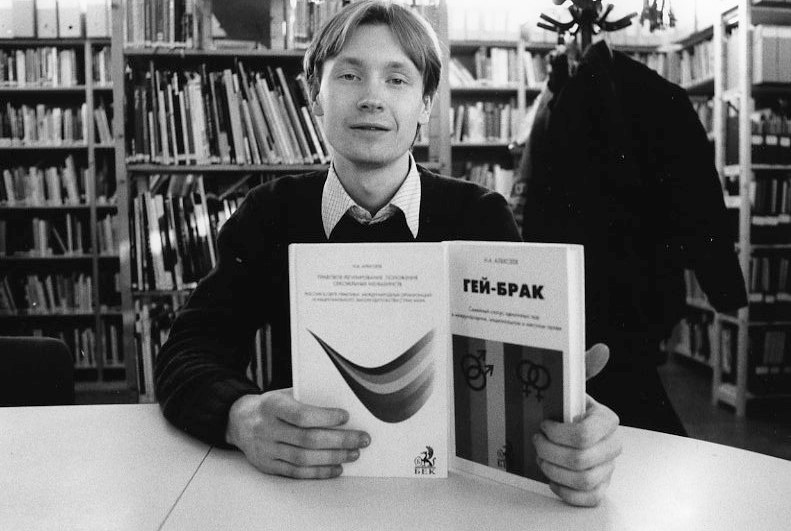 March 2022 in Ukraine
Andryi tells us by email: 'I am about 30 kilometres from the front line, we hear explosions every day, but fortunately no bombs have fallen on us so far.
'My partner Andrii Markiv has joined the Ukrainian National Guard. I am very proud of him! Two days later Russian troops fired missiles at his unit. A few hours later he texted me: "I was born in a shirt!" That means as much as: born with a silver spoon in the mouth. It is terrible.
'Our task now is to survive and protect our country. We hope and trust in the victory of Ukraine. It simply cannot be otherwise. And after the war, we will surely return to our daily work – promoting LGBTI+ rights to make our country a better place.
'Слава Україні! – Героям слава! Glory to Ukraine! – Glory to the heroes!'
Do you want to support Nash Mir?
Andriy Maymulakhin writes: 'Ukraine's banking system is still working properly. We are constantly receiving small donations, PayPal and bank transfers are available.'
Mail to: coordinator@gay.org.ua or transfer money .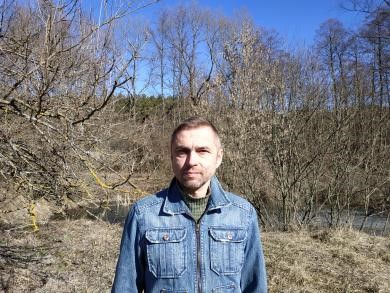 Cover photo: country board at the opening of Gay Games Amsterdam 1998 in the ArenA; right: Andriy Maymulakhin
until 1 August 2023, exactly 25 years after the start of the Gay Games Amsterdam 1998