Mayor Patijn welcomes you.
Gay Games Amsterdam 1998 had a great ambassador in the person of Mayor Schelto Patijn. In a promo video, he spoke to the world from the Amsterdam ArenA – wearing his official mayor's chain and flanked by two Gay Games flags: 'Come to Amsterdam, the Gay Way to Europe!
This promo was shown at all sorts of meetings and on small TV stations. The Mayor also welcomed everyone in the brochure that participants received upon accreditation. Participants and visitors appreciated this.
At the Opening Ceremony, to his great surprise, Patijn was loudly applauded by all present.
Text continues below image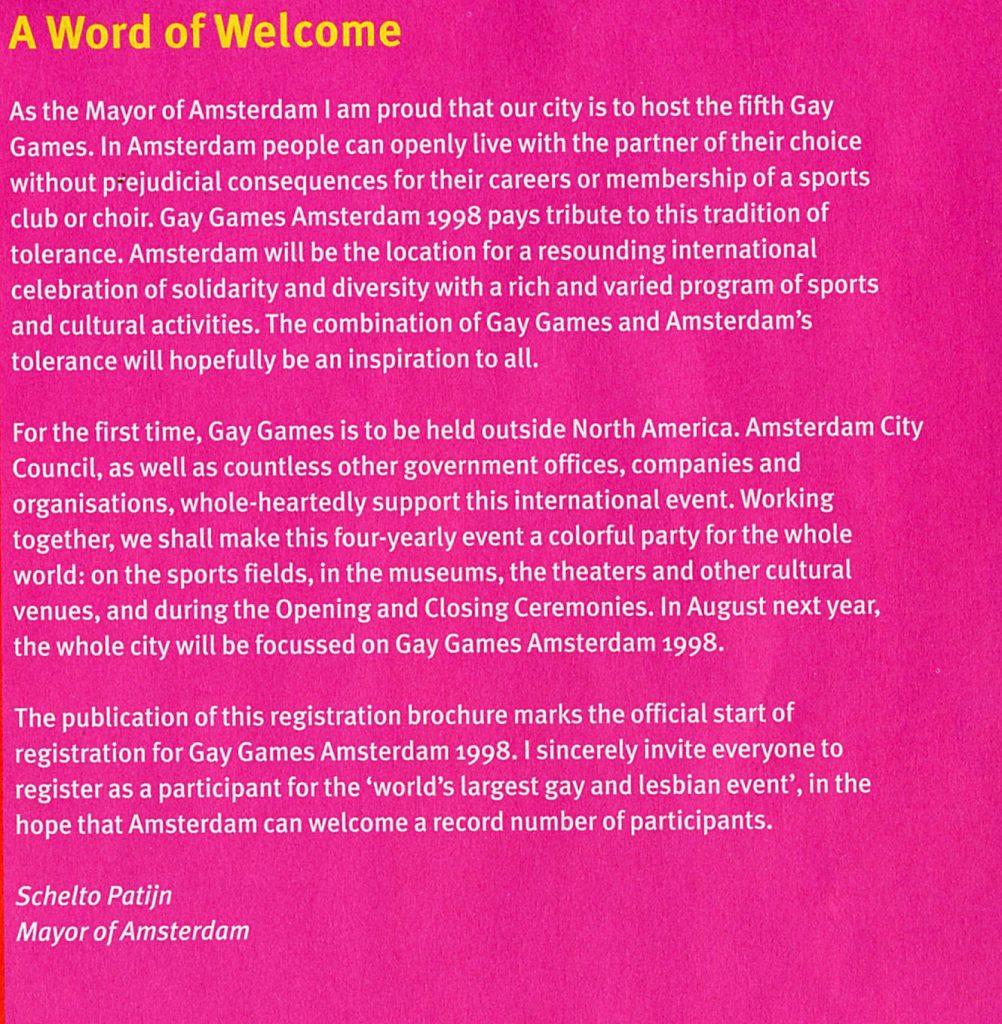 As a civil servant for the municipality of Amsterdam, Jip van Leeuwen worked on countless top sports events and, as the sports director of Gay Games Amsterdam 1998, he was the driving force behind the sports component.
On 1 August 1998, he accompanied the mayor during the Opening Ceremony in the Amsterdam ArenA: 'When Patijn came on stage, everyone started clapping, clapping, clapping. After his speech, the audience kept clapping. "Mayor, make another round on the stage", we said. And there he went.'
The LGBTI+ people had taken Patijn to their hearts and he had taken them to his. For Schelto Patijn, the Gay Games week was a highlight of his career.
Jip van Leeuwen: 'During the entire Gay Games period, I received enormous support from the municipality. Frank de Grave, alderman and deputy mayor of Amsterdam, was the first to say in New York in 1994 that Amsterdam would organise 'the best Gay Games ever'. Aldermen Jikkie van der Giessen and Pauline Krikke were also a great support, as was Mayor Patijn, of course.
'That was a special man, he stole my heart. After the Gay Games, he heard what the event had yielded the municipality financially (approximately 127 million guilders to the foreign visitors (total approximately 200 million guilders, ed.) and that, if a certain amount was not paid in arrears, bankruptcy would be declared. He then made sure that this amount was paid.
'In 2007, I attended Patijn's funeral in the Westerkerk. The then mayor Job Cohen spoke there. He mentioned the many special events that had taken place during Patijn's term of office. Then there was silence, but then he continued: "What Schelto found most valuable in his city, however, were the Gay Games. He was so proud and emotional about that!" Dead silence in the church and I got poked in the side and back. Yes, I couldn't keep it dry.''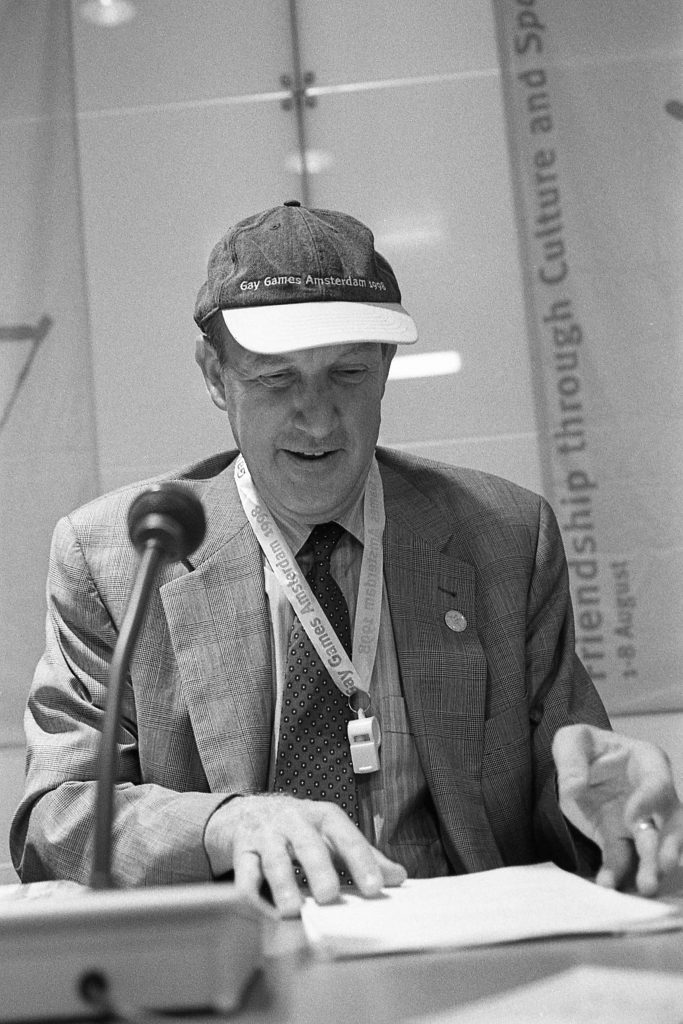 until 1 August 2023, exactly 25 years after the start of the Gay Games Amsterdam 1998