Many people say that Gay Games Amsterdam 1998 was one big party. Some people mean that literally. And indeed, there were parties all over the city, every night. Official, unofficial, for men, for women….
By: Paul van Yperen
It seems to have been great. Seems, because I did hear that Grace Jones was performing, but like the other organisers, I was only working. But the stories afterwards were fun: about a bus trip to a party in Amsterdam Noord together with an elated Chazia Mourali, years before she became the stern presenter of the Dutch version of 'The Weakest Link' and then waiting for hours for Jimmi Somerville. Luckily, Danny Andreas was there and had his camera with him.
Many thanks, Danny!
Click here for more pictures of Danny.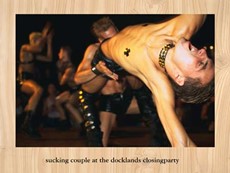 until 1 August 2023, exactly 25 years after the start of the Gay Games Amsterdam 1998