Every participant of Gay Games Amsterdam 1998 received a colourful accreditation pass, which you could hang around your neck and with which you could travel for free with public transport and of course visit activities.
Janine van Doorn, at the time assistant to the culture manager and now member of the initiative group Gay Games Amsterdam 1998-2023, has a fond memory of this pass.
Janine: 'I experienced a special moment the day before the Opening Ceremony. I was walking back to the station when another lesbian walked up, already wearing her accreditation card. We both had this look: This is going to be our week! The city is ours now for a while. We are in the majority. I will never forget that. That feeling was unique, really unprecedented.'
In the days that followed, you encountered people with the pass around their necks everywhere, on the tram, in cafés and shops all over the streets. There were almost 16,000 participants.
Janine: 'The Gay Games can never be surpassed as a work experience for me because it was such a mega-event. To have been able to be a small cog in the wheel, a constant factor in the cultural programme, was very special.
'Margaretha Louwers became the final culture manager and put good people in the right places. She dared to make demands on the volunteers. It just had to be organised well. And she realised that visibility is confrontational and that Gay Games was such a confrontation. Because of the Gay Games, everyone had to start thinking about homosexuality. That visibility in the city was also created by all those thousands of people with their accreditation badges and all those flags on the trams and everywhere in the city. That makes me feel a lump in my throat again.'
Text continues below image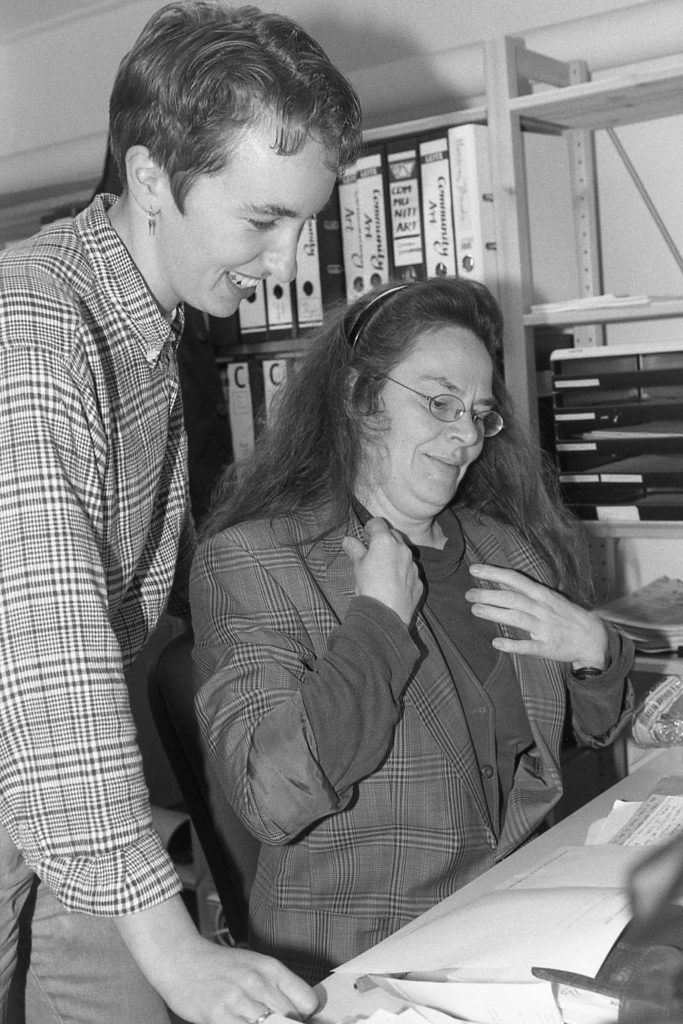 'A reunion in 2023 would be great fun, but also something with the visibility theme. A Gay Games monument was never realised, but it would be nice to have a memento…
'It has been a highlight in many people's lives and if you don't commemorate it, it is as if it never existed. It is important that the Gay Games are documented, because if you can't 'prove' it in history, it didn't happen. And commemoration makes a link to the present and to the future.
'I see more openness among young people. Boys and girls are daring to say that they are into both sexes. There is more attention for bisexuality and for people who are transgender or intersexed. In 1998, these groups were still not included.
'I want to celebrate 25 years of Gay Games Amsterdam, to give people a shot in the arm, both abroad and here. Still not everyone can be visible, because sometimes that is life-threatening. In the Netherlands we can, and of course in 2023 it has to be an inclusive party, for all Amsterdammers.'
until 1 August 2023, exactly 25 years after the start of the Gay Games Amsterdam 1998