'That whole week was incredible. The weather, the atmosphere in the city, being in the majority – these are things that probably everyone says. It was unprecedented and has never come back. At the opening, a lot of people were waiting outside, but it was all so peaceful, so convivial. I have never seen Amsterdam like this, so friendly, cheerful and positive.
'The heterosexuals were also excited and in good spirits. A mother of a friend was a volunteer at the registration. It was a very neat lady, who sat in the Stopera for days in a bright yellow Gay Games T-shirt, very special.
'I suddenly felt normal during those ten days, very nice to experience that for once. After that I participated in several Games, but I never had that feeling again.'
Gudrun Kremeier speaking. She would like to tell the story of the rowing race of Marjo van Loosdregt.
Rowing in a four
'Marjo passed away recently. Without her, I would never have taken part in the Gay Games. She was my first contact in the Netherlands when I came from Germany to work here as a violin maker.
'We met at the Berlagebrug Municipal Rowing Centre. She knew long before the Gay Games started that she wanted to participate in rowing and swimming. The latter dropped out. Then she decided to go for rowing in a four boat. In 1994, we became members of Willem III. Later on, it turned out that a whole contingent of gay and lesbian rowers had joined up there.
Text continues below the image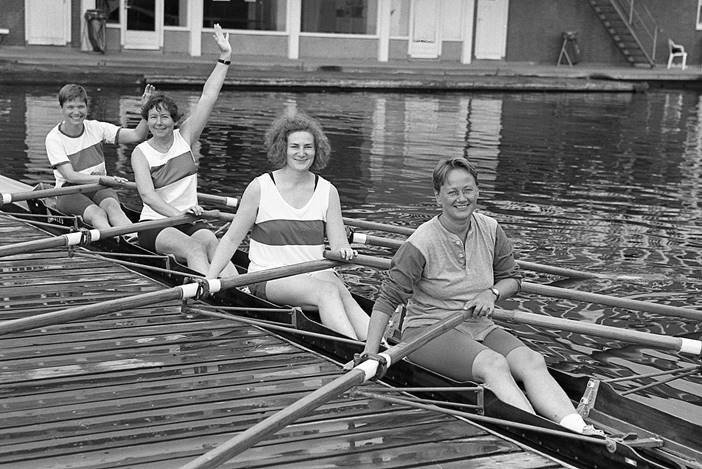 'Through an advertisement, we managed to find women for our foursome. We trained under the guidance of a coach, but unfortunately Marjo had to give up one year before the Gay Games due to back problems.
'Trudy, Klazien, Mieke and I did participate and came in third. Together with Trudy I also came third in a double.
Text continues under YouTube video
'Marjo really wanted to participate and had her sights set on the skiff. She could still do that: alone in a boat. Every morning I went out in a skiff with her to train.'
A procession of cheering cyclists along the Bosbaan
'Marjo's race during the Gay Games was impressive. It happened regularly that people did not show up at the start. In any case, there were far fewer women than men. And so it happened that Marjo was the only one in her age category. Everyone thought it should continue and so she started rowing on her own. Two kilometres, an Olympic distance.
'I cycled along, but as the race went on it became a gigantic procession of cheering cyclists on both sides of the Bosbaan. It was the most special race of all!
'What I found special was that Marjo had thought up something that, even though it was far in the future, she had tried to realise. Not exactly as she had imagined it, but still she went for it. To persevere and give it a positive spin.'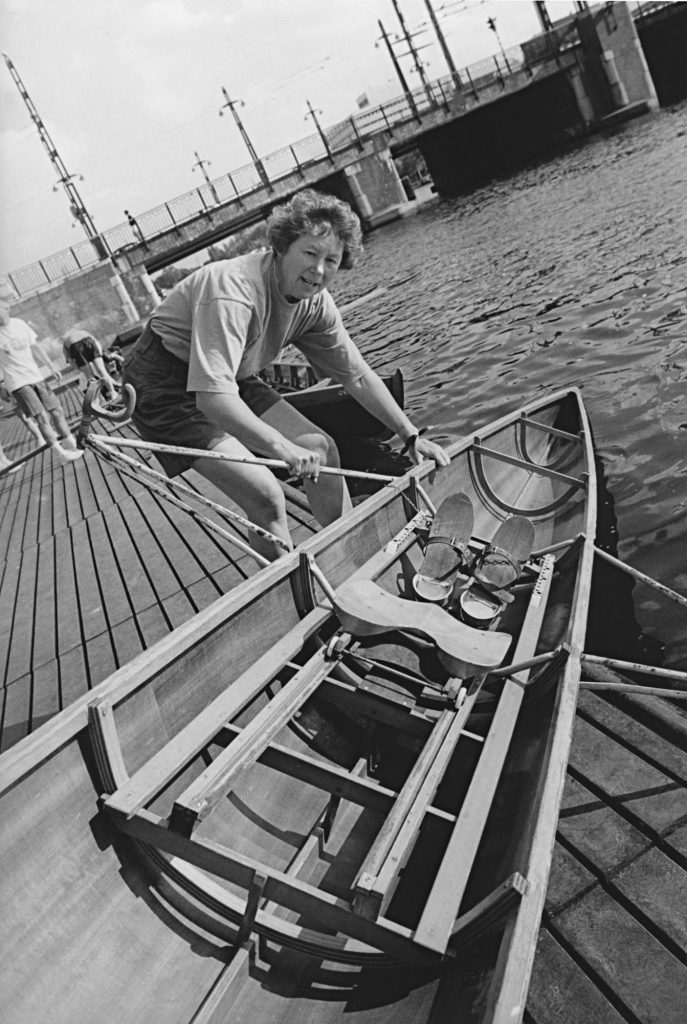 Cover photo: Gudrun Kremeier (2022)
until 1 August 2023, exactly 25 years after the start of the Gay Games Amsterdam 1998