Judith van Cleeff was Squash coordinator during Gay Games Amsterdam 1998. For her colleagues at the City of Amsterdam's Grondbedrijf (development company), she kept a diary in the magazine Grip at the time. Below, we post a few excerpts and pictures from it.
Sunday 2 August 1998
Up early. No problem. High strung on my bike to the Frans Otten. I have the 'supervisor' band on that day. Jacques tomorrow. Want to get the volunteers together to start the day centrally, welcome the new volunteers from CIOS Heerenveen and so on. When I arrive, some of the people are already setting up, messing around, having coffee. The reception desk and reception team are set up by Mariëtte Smit (Environmental Department), the match table is already working, the copier is broken. Still something to arrange, then. Nothing comes from the central authority and is not needed. Everyone does what is necessary.

After an hour of stressing, the sound of squeaking soles and squash balls penetrates me…. Now and then, occasional names are heard being called. So the tournament has really started, people are doing what they came for. Yay! It worked out. My troubles are secondary. I further spend that day calming down people who feel they have been misplaced. This makes it extra busy at the competition table. All 185 participants are in the house at the same time. But it all works out.
Text continues below the images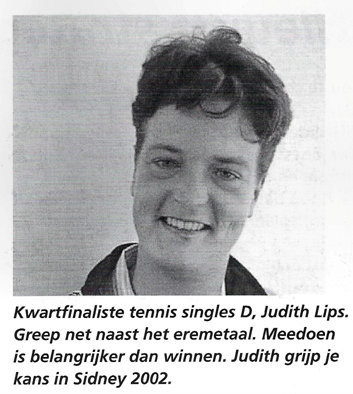 Wednesday, 5 August 1998
Last day of the squash tournament. Awake again at 6.30am. Mara (Judith's friend, ed.) has to play at 08.00 for the umpteenth time. Us at 10.00 am. Again, we don't see each other's match. Cis (Apeldoorn. ed) and I are playing internationally for the first time: German opponents who are mostly silent, too bad. We learn from Floor how important it is to stay focused and we have a lot of fun.

After the match we hurry to the Frans Otten. The finals are already in progress there. The chairman of the Squash Federation is there, and Warner Hemmes of the City Council, friends and acquaintances. I see beautiful finals. Especially that of the top ladies is a blood-curdling five-setter between the #1 and #2 seeded players from the US and the Netherlands. I can't help it the American is a sweetheart and fun, but I still like it when the Dutch win. I'm lucky again.
Text continues below the image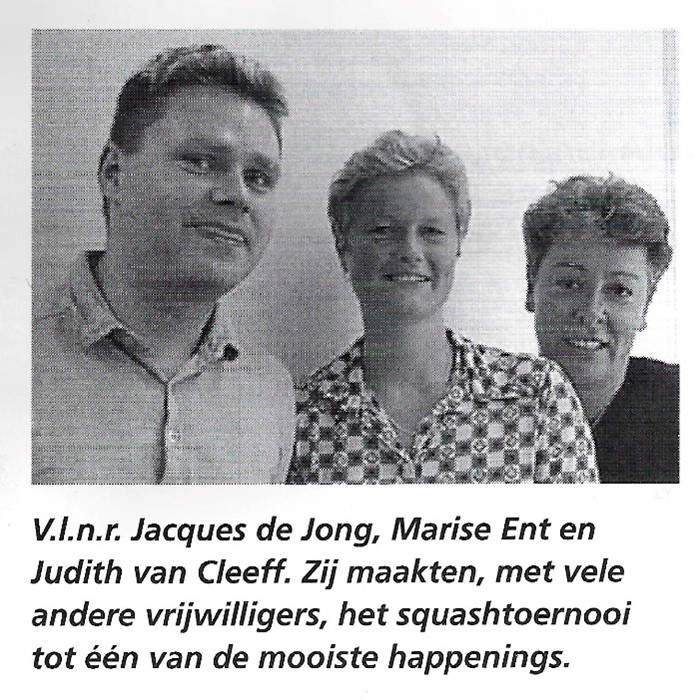 Saturday, 8 August 1998
Sleeping in, 8 tennis shorts on the line and lots of white socks. We don't have to do much today. Going to the Arena tonight for the closing. Pick up a participant medal at Friendship Village or a GWK office. On the way, I meet Ed who hired me as squash coordinator three years ago. The circle has come full circle.
Want to read the whole diary in Grip? See below (in Dutch):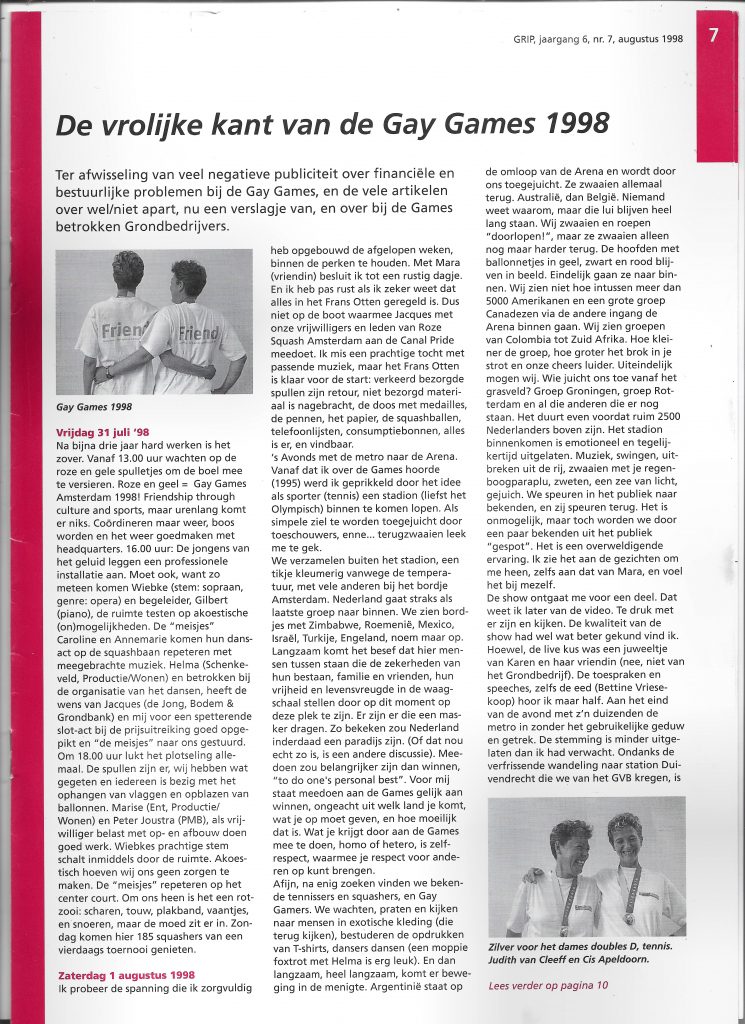 until 1 August 2023, exactly 25 years after the start of the Gay Games Amsterdam 1998