The well-known logo of Gay Games Amsterdam 1998 with the red tulip and the pink triangle was designed by Kees Ruyter. The strong colour contrast symbolises the visibility of the large and diverse gay and lesbian community worldwide. 
In 1993 Kees joined the initiative group with John Avis, Marjo Meijer and others who wanted to bring Gay Games to Amsterdam.
Kees: 'I did not want to be involved as a designer, but mainly in the content. When finally a logo had to be designed, I did it anyway. The design was quite difficult. It had to have energy, sport and culture. The lhbt-feeling had to be very recognisable.
'I also wanted to give the logo a temporary character. Gay Games Amsterdam 1998 did not have to become an institute with a rigid, institutional logo. It was a transient event.
'Visibility was also important: the image had to stick. The tulip is a combination of a flame and the pink triangle, at the time the undeniable Dutch lgbt symbol. The colours – magenta, red and yellow – are sharp and rich in contrast. You almost have to put on your sunglasses. That represents visibility. I often had to explain why I had chosen yellow. An anecdote: An American from the Federation of Gay Games asked about the yellow, because he did not understand why the colour was used. "Have you never realised that yellow is the centre of the rainbow?" "That's genius", the man said, but (laughing) it wasn't really thought up that way. It's also funny that yellow later became a real LGBT colour.'
In 1995, Kees became marketing and communication manager and creative director of the work organisation:
'The core message of Gay Games Amsterdam 1998 was visibility. Visibility in the city, visibility of the large and very diverse group of women and men from all parts of the world.'
How is that visibility now?
Kees: 'When I think of Gay Games, I still think about it, and not undeservedly so. An inventory: visibility among teaching staff, visibility of students in the classroom, visibility in the street, all of that is under pressure. Visibility in sport remains explosive, as was shown once again when the first open professional footballer came out of the closet publicly at a young age: the Australian footballer Josh Cavallo. He was celebrated in the media (also by some professional footballers), but was called out – including death threats – by supporters and other professional footballers.
'I also think the visibility in the media is too one-sided now. When, for example, I read in the newspaper about a recent murder in Belgium that there is 'one victim and three underage perpetrators', I think 'no, there are four victims here! Apart from the victim, there is no attention for the perpetrators and their homophobic thinking. I can cry when I think of a 15-year-old boy committing murder because he is full of homophobia. That did not just happen by itself. Now he has a murder on his conscience for the rest of his life.
'Homophobia is visible everywhere these days, like in Rotterdam when recently the COC buildings were covered with homophobic texts. You see a split between young people who do talk about LGBTQI+, and do so extensively (the fluid generation), and young people from groups where homosexuality is simply not allowed to exist. 
'Internationally, too, I see a hardening of homophobic views in countries such as Poland, Russia, China and Kenya…. You see how difficult it has become to organise the Gay Games in Hong Kong.
'For me, celebrating the 25th anniversary of Gay Games Amsterdam is still about that visibility. Celebrating our freedom by being visible and continuing to fight for it.'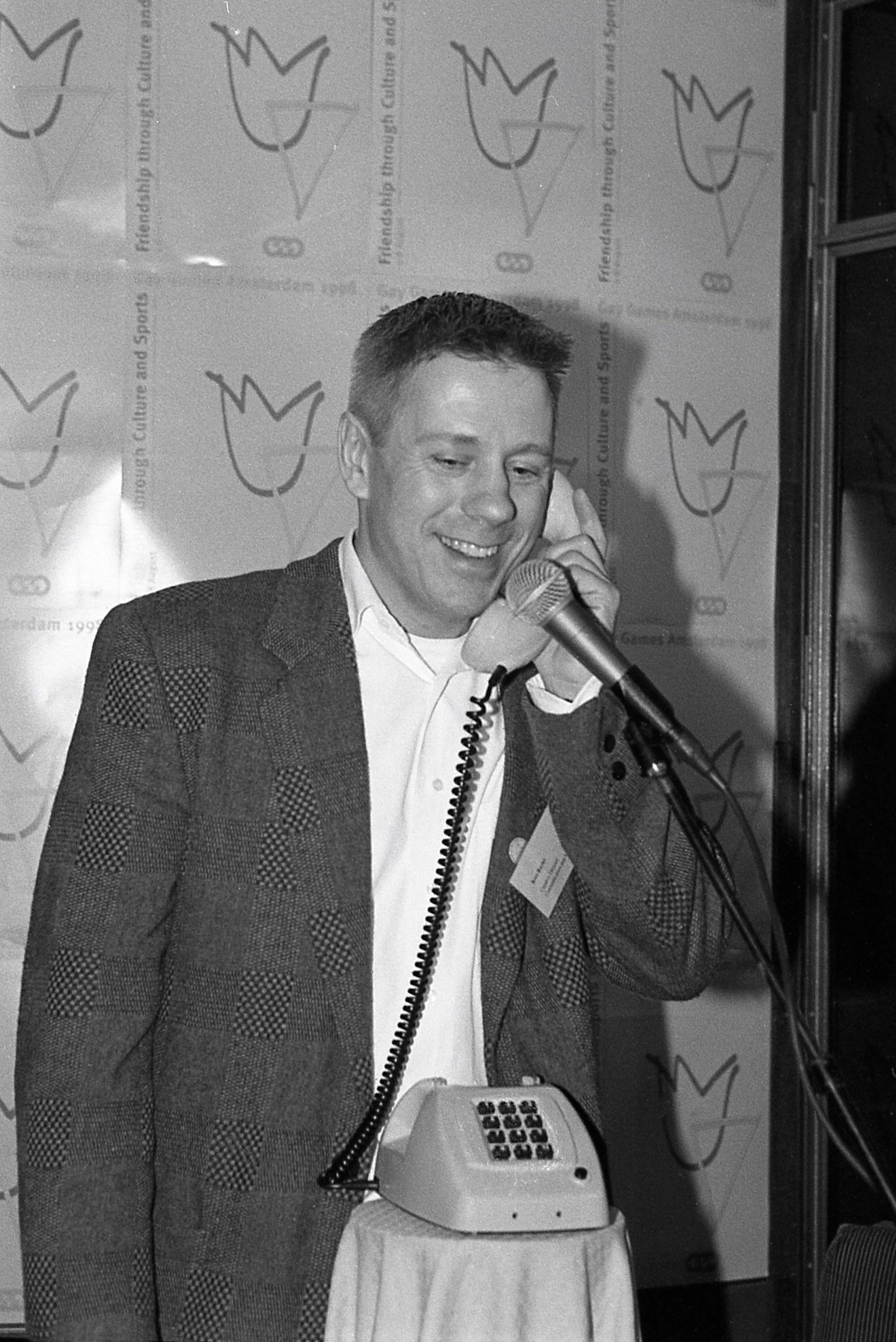 until 1 August 2023, exactly 25 years after the start of the Gay Games Amsterdam 1998