The Games had hardly ended when news arrived that Gay Games Amsterdam 1998 had won the 1998 Piet Kranenberg Amsterdam Tourism Award. The 3000 volunteers that is.
A report on the ceremony read: 'This event could not have taken place without the selfless commitment of all those thousands of volunteers. The Gay Games were the most important event of the year for Amsterdam'
Of course, it was also important to note that 126 million euros were spent by visitors in that week, and 83% of them said they would soon come back to Amsterdam.
Lianne Postma, coordinator of the volunteers at the time, explains.
Tried and tested
'Someone had to receive it and because I was the coordinator of the volunteers, I went there with two 'real' volunteers. The presentation took place during the annual meeting of VVV Amsterdam. A room full of people from tourism, culture and government in the Rode Hoed.
'There I was, with my cut-up blockhead, giving a speech. But having attended all the volunteer meetings in the run-up to the Games, I was by now well versed in giving speeches.
'The Award was a crystal cup and was handed over by Piet Kranenberg – best known as the man who saved the Olympic Stadium from demolition. I thought it was an honour.
'Then we had to deal with the heavy thing, where should it go? Of course, there was no Gay Games office anymore. We hoped that the trophy could be displayed in a showcase in the City Hall – Friendship Village during Gay Games – but I really don't know if that happened or where it is now.'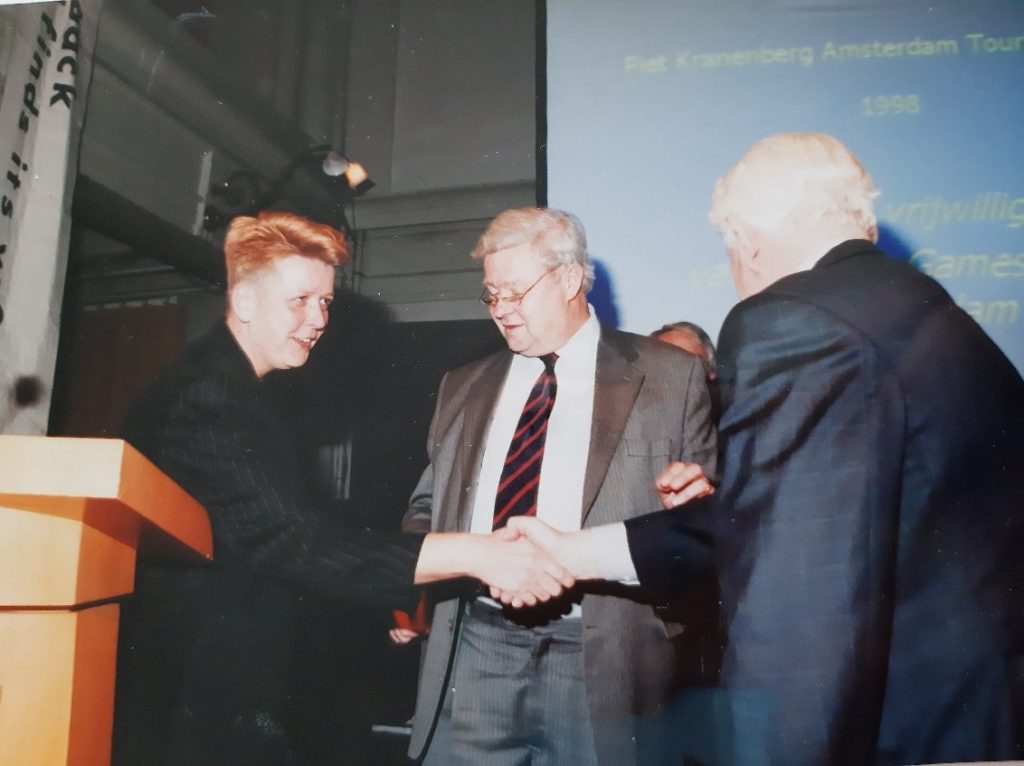 Everyone wanted to help
'By the way, I thought the Gay Games medal was a much nicer trophy. Unfortunately, I could not win one because I could not participate. Much too busy, I was coordinating the whole week in Friendship Village.
'What impressed me in the years leading up to and during the Games was how seriously everyone took the event. The enthusiasm, the hospitality in the city. Everyone wanted to participate: the catering industry, the theatres, the sports facilities. Municipal officials, who became stewards at the Opening and Closing Ceremony – they all wanted to help out.'
A new family
'I had my own volunteer recruitment team, a very nice group. There was a workspace for us at the office on the Nieuwezijds Voorburgwal. The whole thing relied on the volunteers.
'Special things that you will never experience again for the rest of your life. Ruud Oosterhof and I went to the Gymnastrada to recruit dancers for Opening and Closing and we were allowed to have dinner with Mayor Patijn on the Herengracht.
'It has given me strength in life. That I took on this. And I met a lot of lovely, inspiring people and gained a new family.'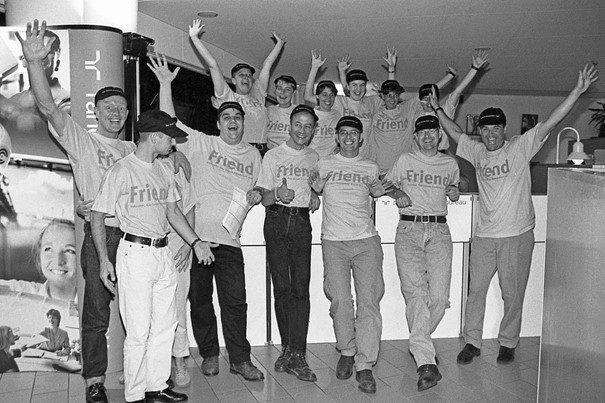 Cover photo: Piet Kranenberg Amsterdam Tourism Award 1998
until 1 August 2023, exactly 25 years after the start of the Gay Games Amsterdam 1998