Translations exhibition texts
Maxim Bezembinder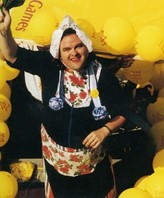 As Frau Antje in the 'Official souvenir program, 8 days of Friendship'
Maxim Bezembinder as Gay Games' Frau Antje was a popular icon and ambassador. 'Maxime' was featured in numerous photos in publicity material, on postcards and posters.
Photo: unknown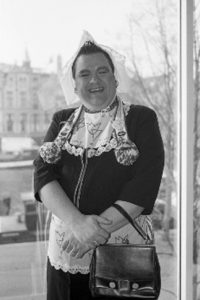 Maxime in the City Hall 1998
"My most beautiful memory? That is a feeling of warmth and love when I think back to that week".
Photo: Marian Bakker, 1998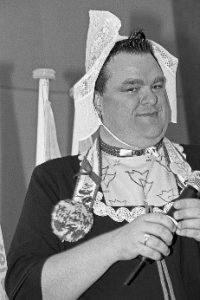 Frau Antje during a press conference in the City Hall on 19 February 1998
"The Gay Games week was a very intensive, tiring but fantastic week that I will never experience like that again".
Photo: Marian Bakker, 1998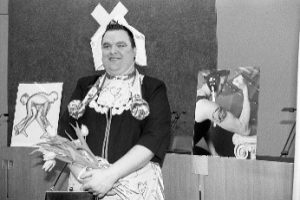 Maxime during the presentation of the poster series with work of artists
"I am most proud that we have shown the world that you can just be yourself….. You don't have to be ashamed of anything".
Photo: Marian Bakker, 1998

Frau Antje on the Gay Games boat during the boat parade in 1998
"Amsterdam was then the 'Gay Capital of Europe', the city was ours".
Photo: Marian Bakker, 1998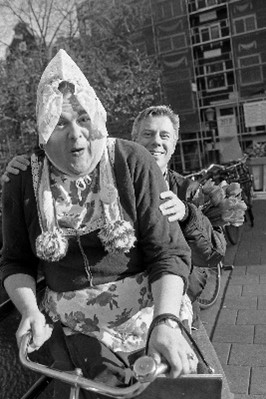 Frau Antje on the bicycle with Kees Ruyter on the back
"The most fun period was the five years before the Gay Games started".
Photo: Marian Bakker, 1998
Mayor Patijn

Mayor Schelto Patijn during a press conference in the Amsterdam ArenA on 21 August 1997
"The combination of Gay Games and Amsterdam's tolerance will hopefully be an inspiration for all…Come to Amsterdam, the Gay Way to Europe".
Photo: Marian Bakker, 1997
Kees Ruyter, the designer of the Gay Games Amsterdam 1998 logo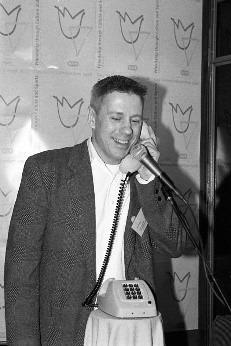 Kees Ruyter, creative director of Gay Games Amsterdam 1998 and designer of the Gay Games logo. Here, during the opening of the Call Centre, he is talking to the first caller, Margreet Dolman, alias Paul Haenen
"The logo symbolises the visibility of the large, diverse gay and lesbian community".
Photo: Marian Bakker, April 1997
DAV The Advisory Group Women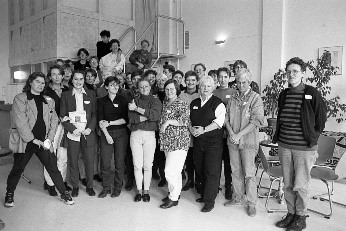 Women's meeting by the DAV (De Adviesgroep Vrouwen) in the Women's House, August 1996. The aim of the DAV was to ensure that at least 40 % of the participants would be women. This was to be promoted, among other things, by making women visible in images, language and programming
"How do we get women off their divans?"
Photo: Marian Bakker, 1996
Special Needs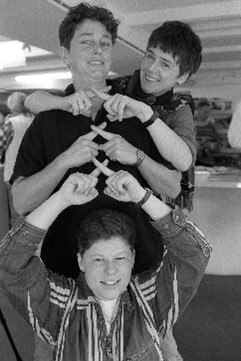 Maloush Köhler: member of the Special Needs working group and co-ordinator of Deaf Access. (On the photo above right: Maloush, left: Kere van der Veer, below: Joni Oyserman)
"It is about inclusive thinking. Gay Games is also for deaf people!"
Photo: Marian Bakker, 1998
SPORTS
The 30 Official Sports
Badminton, Dancing, Basketball, Billiards, Bodybuilding, Bowling, Bridge, Chess, Cycling, Figure Skating/Ice Dancing, Ice Hockey, Judo, Karate, Marathon, Martial Arts, Rowing, Squash, Softball, Soccer, Sports Climbing, Swimming, Table Tennis, Tennis, Track and Field, Triathlon, Volleyball, Water polo, Weightlifting, Windsurfing, Wrestling
Jip van Leeuwen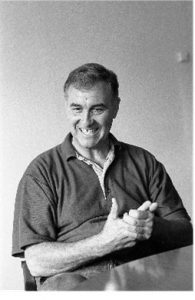 Jip van Leeuwen, Manager Sport. His objective was: integration between gay men and lesbian women and between the gay and straight sports world
"We must treat each other equally in the sports world".
Photo: Marian Bakker, 1997
Water polo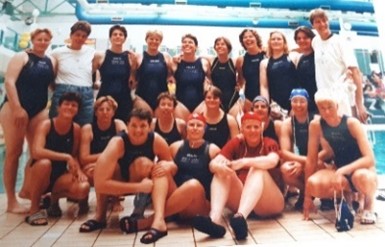 Jeannette Nijboer with the Dutch water polo women (Jeanette in the top row, second from left)
"We had called up women from all over the country to participate in water polo and were able to form two women's teams."
Photo: unknown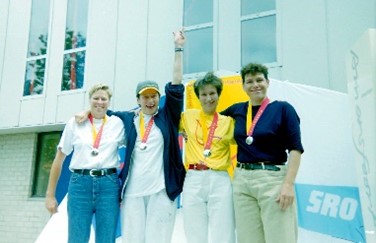 Jeannette Nijboer (right)
"In the relays we won gold medals."
Photo: unknown
Triathlon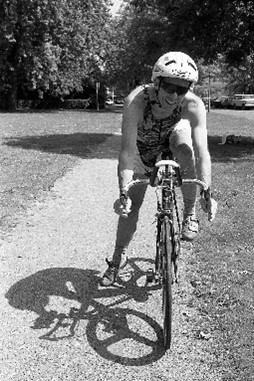 Marc van den Broek, organiser of Triathlon and Marathon
Photo: Marian Bakker, 1996
Soccer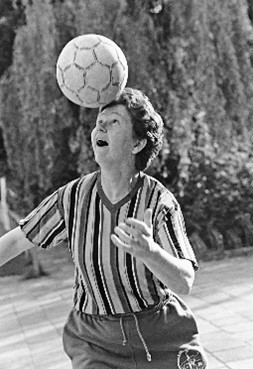 Riet Willems organised the football tournament with 1200 participants. For her, the theme of the Gay Games was: 'To do one's personal best'
"It was so thrilling to walk into that Arena during the Gay Games."
Photo: Marian Bakker, 1997
Rowing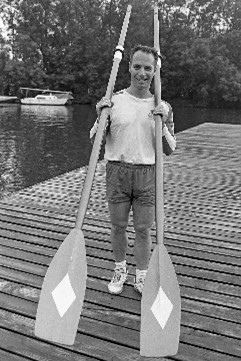 John Avis, co-coordinator of rowing
"This only happens once in a lifetime."
Photo: Marian Bakker, 1996
Bridge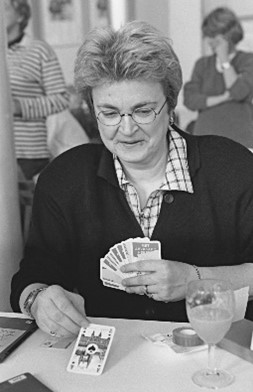 Hanka Heumakers, co-coordinator of bridge. The location was Grand Café Krasnapolsky
"It's just as much sport as any other sport."
Photo: Marian Bakker, 1998
Bodybuilding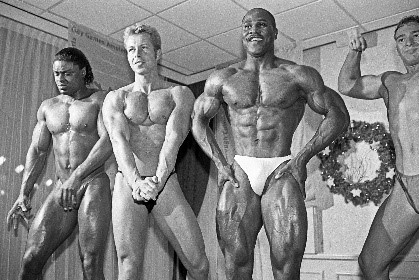 Thijs Westerbeek van Eerten (2nd from left), member of the bodybuilding promotion team. The tournament took place in the Congress Centre of the RAI
"Homosexuality is a taboo among bodybuilders."
Photo: Marian Bakker, 1997
Basketball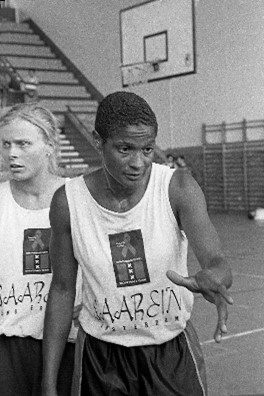 Laura Evans. Here, her team wins gold at the 1997 EuroGames in Paris
"During the Gay Games in Amsterdam we want to win."
Photo: Marian Bakker, Paris, 1997
Ballroom dancing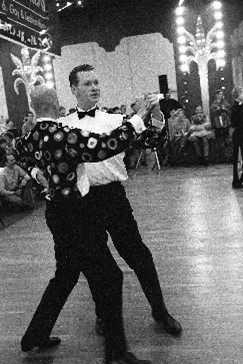 Wim van Zalinge (left) was in the ballroom dancing promotion team together with his partner Cor Moons
"That feeling of togetherness was one of the most beautiful things in my opinion."
Photo: Marian Bakker, EuroGames Berlin 1996
Martial Arts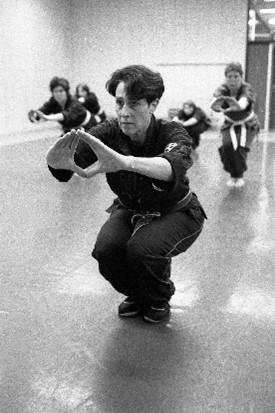 Beth Holt, coordinator Martial Arts
Photo: Marian Bakker, 1997
Cycling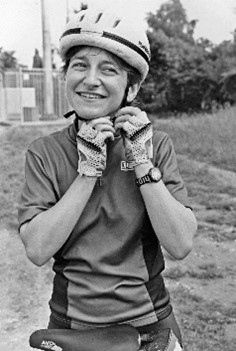 Nellie Voss, co-coordinator of bicycle racing. She cycled with ELF: First Lesbian Cycling Club. The races were held at the Velodrome in Sloten. Nellie participated in the team time trial
Photo: Marian Bakker, 1996
CULTURE
Choir Festival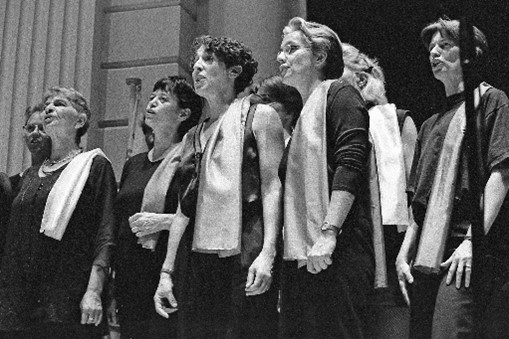 The Choir Festival was held on 7 August in the Concertgebouw. 100 choirs participated from the Netherlands and abroad
Left: performance by Amsterdam choir Dissonant
Right: performance by the organising choir Noot aan de Man
Photos: Marian Bakker, 1998
Lesbian ConneXion/s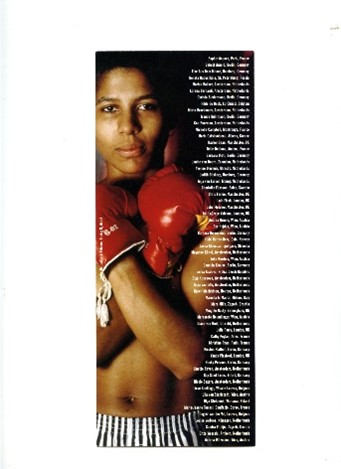 Lesbian ConneXion/s was an international photo exhibition with work by 60 photographers from 15 European countries. After Gay Games Amsterdam 1998, the exhibition travelled through Eastern Europe and was shown in Ljubljana, Zagreb, St. Petersburg and Belgrade
Lesbian ConneXion/s. The photo exhibition in Artotheek Oost
Photo: Marian Bakker, 1998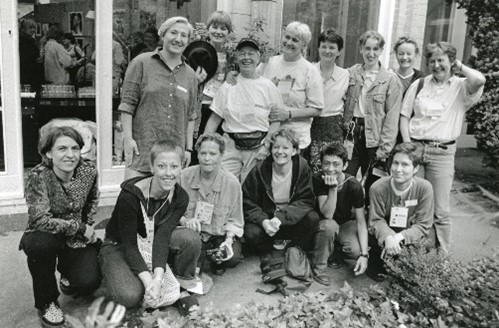 Lesbian ConneXion/s. The participating photographers who were present during Gay Games Amsterdam 1998
Photo: Marian Bakker, 1998
Art in the Nieuwmarkt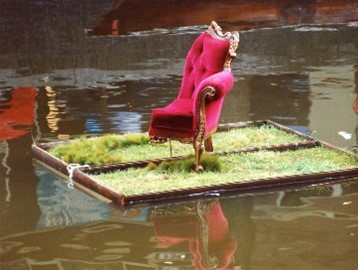 Left: Art in the Nieuwmarkt, floating object
Right: Art in the Nieuwmarkt, artists exhibit their work in sea containers
Photos: Janine van Doorn
The atmosphere in the city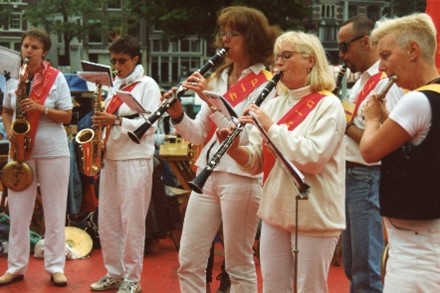 Left: Marching band
Right: Street performance by the choir Hope and dignity
Photos: Janine van Doorn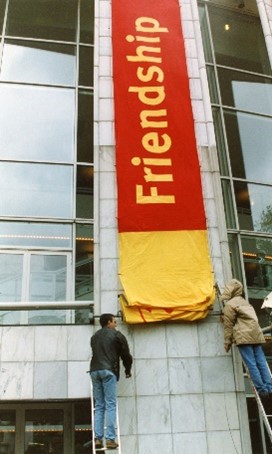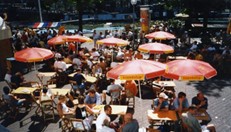 Storytelling Festival

Andriy Maymulakhin (right) with country sign at the opening of Gay Games Amsterdam 1998 in the ArenA. Andriy, founder and coordinator of Nash Mir in Ukraine, participated in the Storytelling Festival
"Without any exaggeration, these Gay Games can be called a grandiose historical event in the life of the Western gay community."
Photo: unknown
Information provision/merchandising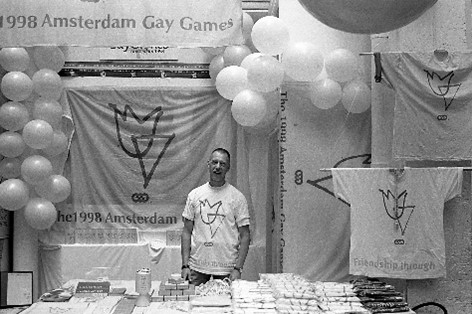 Willem van Bockel worked in the Call Centre and stands here behind the stand in the information centre of the EuroGames 1997 in Paris
Photo: Marian Bakker, Paris 1997
Volunteers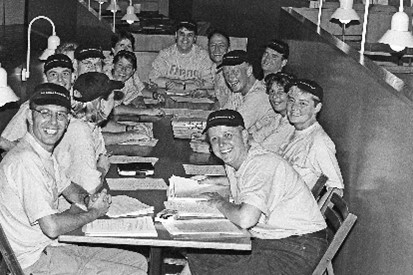 Lianne Postma (front right) was the coordinator of 3000 (!) volunteers. In the photo she is instructing the volunteers in Friendship Village in and around the City Hall
"I met inspiring people and gained a new family."
Photo: Marian Bakker 1998
1000th Volunteer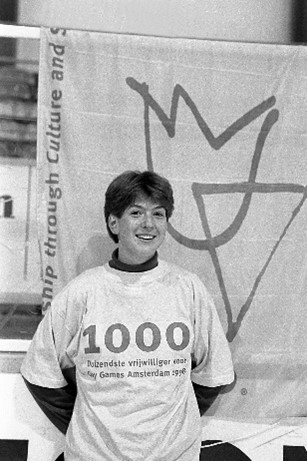 Esther van Eimeren was the thousandth volunteer, pictured here during the presentation at the Jaap Eden Ice Rink
Photo: Marian Bakker, 1997
until 1 August 2023, exactly 25 years after the start of the Gay Games Amsterdam 1998