For Lydia la Rivière-Zijdel, the highlight of Gay Games Amsterdam 1998 was when she drove her wheelchair into the Amsterdam ArenA:
'I immediately feel the emotion again. This was a triumph of so many things at once. As for myself that we were in front with so many people with disabilities. That we got it done despite all the shit that was going on in the last week. That we were the first Gay Games with so many openly disabled people, deaf people, people with HIV/AIDS and so on, and that we felt part of the gay movement!'
There I went with that flag between my teeth
'In 1994, at the Gay Games in New York, Jip van Leeuwen (director of sports in Amsterdam) asked me if I wanted to carry the flag at the final ceremony in the Yankee Stadium. I never say no, so there I went into the stadium with that flag between my teeth.
'Then something really unique happened, I was so happy and I said to my wife Guusje, "We can't let this go. We have to participate!" That worked out. Guus got a sabbatical from her boss at the AMC and became medical coordinator. And I started rigging up the Special Needs section. So basically, I seriously got involved in the Yankee Stadium.'
Text continues below the images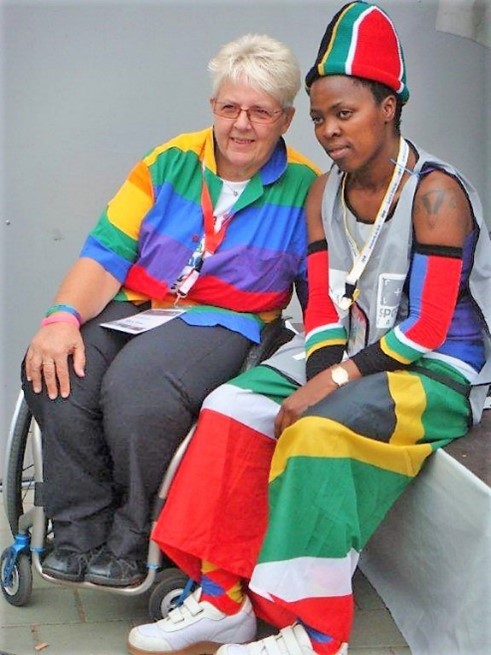 How unique that was
'Yes, the Gay Games were actually a milestone. During the covid period, suddenly sign language interpreter Irma caused a furore on TV. The whole of the Netherlands was talking about it. But at our Gay Games in 1998 – 24 years ago! – we had sign language interpreters at the opening and closing and all the cultural and many sports events. How unique that was.
'Our LGBTI+ world was way ahead then. We had the most disabled people ever in the Gay Games and also a real welcome for people with HIV/AIDS. Even medication was available for them. LGBTI+ persons were for one week the norm in Amsterdam and not the exception!'
Text continues below the image
A stage for anyone who wants to reminisce
'Provide a stage for anyone who wants to reminisce in 2023 during the celebration of 25 year Gay Games Amsterdam, as is happening now on this website.
'And what I would really like is a theatre piece, where you show all these little facets that are recognisable to people and maybe a comic piece about the Gay Games week itself. Something visual, and that can also be a documentary, that we will all watch together.'
These are excerpts from an episode of the series 'Ervaringsverhalen over Gay Games Amsterdam 1998', written by Paul van Yperen for Movisie. Sorry, in Dutch only.
until 1 August 2023, exactly 25 years after the start of the Gay Games Amsterdam 1998